Wetherspoons is banning dogs from its pubs
11 September 2018, 17:33 | Updated: 11 September 2018, 17:34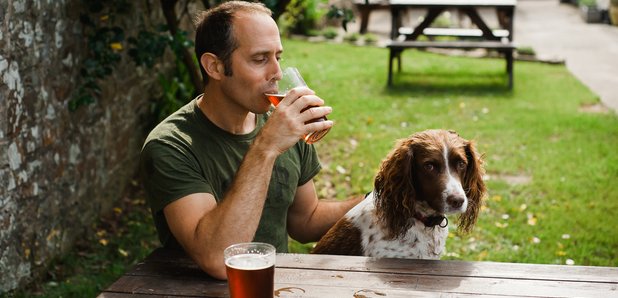 Chain labels pooches 'unpredictable' and forbids them from entering their outlets - and customers will be furious.
The UK's biggest pub chain has issued a blanket ban prohibiting dogs from its premises across the whole nation.
In a controversial decision, JD Wetherspoon have issued a statement announcing the ban which is effective from this week.
It means that only assistance dogs will be allowed in any of their establishments from now on.
Wetherspoons says dogs are 'unpredictable'
Announcing the news last month, a statement from Wetherspoons said: "Please note that Wetherspoon has a policy of not allowing dogs in its pubs, including all outside areas. (Assistance Dogs excepted).
"This policy was introduced shortly after the company was founded in 1979, although in recent years we have allowed a few exceptions.
"After much consultation, we will now be strictly enforcing this policy everywhere.
"In order to give those affected time to adjust we have set a deadline of Monday, September 10, 2018."
Wetherspoons was founded in 1979 by Tim Martin and it currently has just under 1,000 outlets around the country.
Only assistance dogs will be allowed in J D Wetherspoons pubs from now on
Company spokesperson Eddie Gershon added: "Even well behaved dogs can be unpredictable, every dog owner thinks their dog is perfect.
"We welcome a lot of children and families and younger children in particular can be unpredictable around dogs and many are scared of dogs.
"We serve a lot of food. Unfortunately not all owners are diligent over cleaning up dog mess."
The announcement has been met with dismay from some people, including OMGgemma who said: "awh not even allowed in the beer garden! dogs are not the only ones in wetherspoons that people are often afraid of and behave unpredictably tbh tho."
Another user GoldenVision90 joked: "Literally 90% of the blokes in my local Spoons are more likely to bite you or pee on your leg than a dog."
And DangerousAdam added his two pennies worth, saying: "I would much rather see dogs in my local spoons than other people's horrible bloody kids."
Meanwhile, several other Twitter users back Wetherspoons' decision.
JenniferMary_ said: "Why is dogs getting banned from spoons controversial? Dogs are animals and shouldn't be in places where they can get overwhelmed and lash out. I can't tell you the amount of times I have been scared by dogs in public places! If I see a dog in a pub or a cafe honestly I'm On Edge."
While AdamDewing simply stated: "Who takes their dog to spoons anyway"