Friends who promised to marry if they were single at 50 tie the knot
14 August 2018, 15:29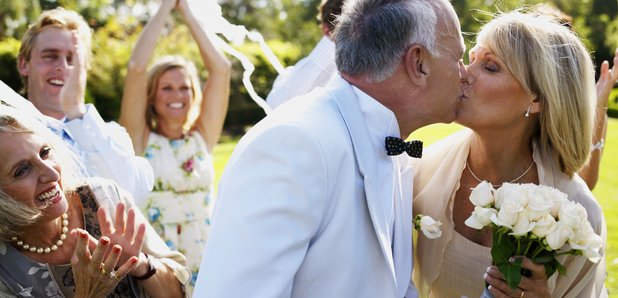 Many of us have made a pact to marry a mate if we end up middle aged and alone... and but these pals stuck to it.
An American couple who promised they would marry each other if they were still single at 50 have actually tied the knot.
Kimberley Dean, 51, and Ron Palmer, 54, have been friends for 37 years.
They were high school sweethearts but split up when Ron decided he wanted to play the field. They remained good friends and stayed in touch.
The couple's friendship remained constant over the following few decades, with each of them going through the usual rollercoaster of relationship woes and other such ups and downs.
Throughout their life experiences they comforted each other and gave one another support when it was needed, making a pact to marry if they hadn't found a life partner by the time they were 50.
It was a complete joke," Kimberley told the MailOnline. "We were both single at the time and we were just both fed up with dating and all the craziness that goes with that."
Kimberley went through a marriage and subsequently divorced, with Ron on hand to help her through the fallout of her collapse of her marriage.
The couple finally married last week, and couldn't be happier.
"Everybody jokes, 'Well, it's about dang time'. We waited a long time to finally get to this point," Kimberley said.
"Everything you go through to get to here was worth it. I just wish it could have been a little earlier. What can I say? I love him. I'm head over heels."
And Ron is just as enamoured with his teen sweetheart.
"We started out as friends, we fell in love and we parted as friends, but we still cared for each other," he said. "I've always loved her because she's such an awesome friend."