Gatwick Airport chaos after 'electrical glitch' forces staff to write flight info on whiteboards
The electric screens which usually show gate numbers and departure times have stopped working.
London Gatwick Airport has descended into chaos after flight information screens suddenly stopped working.
Airport staff have been forced to write important flight information on whiteboards around the airport, meaning passengers are huddling around the makeshift info points to find out gate numbers, flight times, flight numbers and even boarding times.
The problems have been going on for at least three hours at one of the UK's busiest airports.
Hordes of passengers have been pictured gathered around whiteboards at the airport to try and find out information about their flights.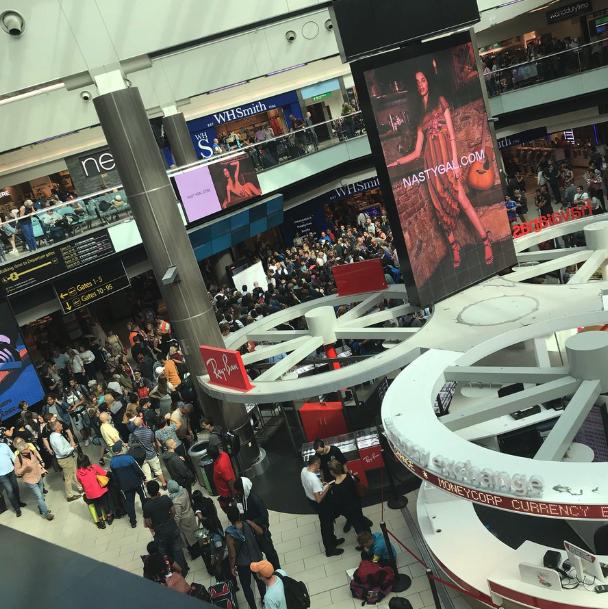 Crowds gather around a whiteboard in the departures lounge at Gatwick | Picture: Twitter
Staff have also apparently resorted to shouting out flight information as the huge throngs of people mean that not everyone can see the boards.
Many frustrated passengers have taken to twitter to slam the airport for the chaotic scenes.
@Gatwick_Airport: the systems are down - get the whiteboard out!

Generation Z: what are whiteboards?#gatwick #oldschool #backinschool #onlyoneintheback pic.twitter.com/WOhYr0q9Jd

— Tamara Salem (@TamaraSalem) August 20, 2018
This tiny whiteboard is the only departures information in Gatwick Airport right now; every screen is offline. Utter chaos. This is a signature flourish at the end of a short trip that's been full of reminders of how badly the UK's infrastructure is crumbling. pic.twitter.com/6r7CDVheLf

— Rob Fahey (@robfahey) August 20, 2018
Many passengers were frustrated by the chaotic scenes at the airport but some sympathised with the poor staff who were doing their best to manage the situation.
A spokesperson for London Gatwick Airport said:
"Due to an ongoing issue with Vodafone - a provider of IT services for Gatwick - flight information is not being displayed correctly on the airport's digital screens and is currently displayed manually in the terminals.
"Gatwick would like to apologise to any passengers affected and expects Vodafone to resolve the issue as quickly as possible."