You Can Now Sleep In A Giant Bubble And Watch Iceland's Northern Lights
24 July 2017, 11:49 | Updated: 24 July 2017, 11:59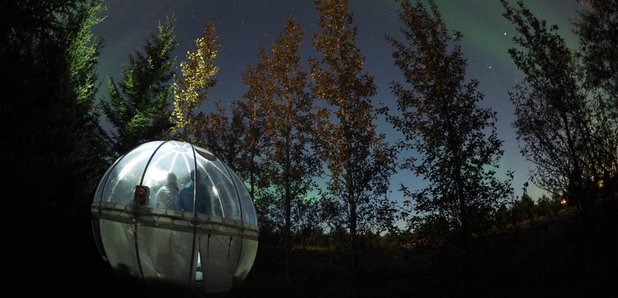 The minimalist accommodation provides an opportunity to see the northern lights in a way very few people have...
There's no doubt that seeing the Northern Lights is a once in a lifetime opportunity. But what if you could watch them without having the view blocked by walls or a ceiling and still stay super warm from the bitterly cold conditions outside?
Well, now you can, thanks to the aptly named The 5 Million Star Hotel.
We're not joking when we say they set you up in a bubble for the night, it's barely bigger than the double bed you'd be sleeping in, but there's very little between you and nature.
The brains behind the design of the stunning, glass hotel rooms is Icelander Robert Robertsson.
"It actually all started while I was helping travellers some two to three years ago, designing their northern lights trips here in Iceland," says founder, Robertson. "One evening I got a call from one of my customers who was participating in one of the traditional northern lights tours. They had driven to a mountain, as they often do, and they had been waiting and waiting out in the freezing cold weather.
"The customers asked me on the phone, with a somewhat freezing voice, 'Robert, Robert this is so crazy. I'm freezing to death out here. Don't you know of some hotel around here where I can just lay in my warm bed and have a glass roof so I can watch the northern lights'?"