Girl Goes Shopping Wearing NOTHING But Paint And The Reactions Are Hilarious
21 November 2017, 15:00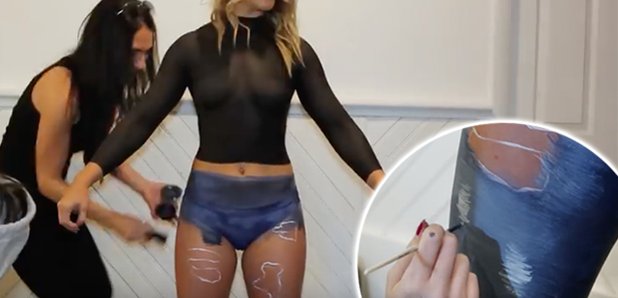 Would you have noticed?
Sometimes, choosing an outfit can be so much effort in the mornings.
But one woman decided to bypass that part of her morning routine and headed out to the shopping centre in nothing but BODY PAINT:
With a clever paint job all over her bare skin, this young American turned many heads as she wandered in and out of the shops. Some people seem to clock on instantly, whilst others are clearly thinking that something isn't quite right, but they can't put their finger on what.
The lady and her mum almost fool a shop assistant, who starts to help them find a pair of jeans similar to the ones she's wearing, before she takes a closer look and realises that it's all paint work!
As tempting as it may be for some to undergo a paint makeover and not have to worry about the discomfort of skinny jeans, we can't help but wonder what happens when she then wants to try something on during her shopping spree...?!
And let's hope her car is parked in an underground carpark, because a mad dash in the rain to pay for a ticket wouldn't go down too well either!
No one can deny she looks absolutely amazing decked out in nothing but paint, but we don't think we've got the patience to stay still for long enough to undergo the process!