This 100-Year-Old Grandmother Is The Most Fabulous Bridesmaid Ever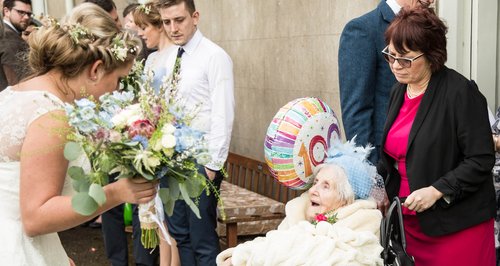 What better way to spend your 100th birthday than walking your granddaughter down the aisle on her wedding day.
Veteran grandmother Martha Wallbank no only celebrated her centenary this year, but also had the joy of seeing her 29-year-old grandchild get hitched.
Vita Cresswell wed her partner of eight years, 31-year-old Gary Whineray in a gorgeous ceremony that took place on her grandmother's landmark birthday.
"The vicar said it was someone else's special day and her hand shot up." gushed the Bride. "They had a party the day after and the first thing she said was how excited she was to be part of it which I thought was really sweet."
Not only did Martha attend the wedding however, but she even agreed to take on the important role of bridesmaid.
Wearing a blue hat and a warm shrug, the 100-year-old superstar brought much love and happiness to the special occasion.
We're made up for Granny Martha!
Who could imagine a better bridesmaid? Bless.