How To Look Your Spooky Best At Halloween With Some EASY Make-Up Ideas!
6 October 2017, 16:28 | Updated: 6 October 2017, 16:31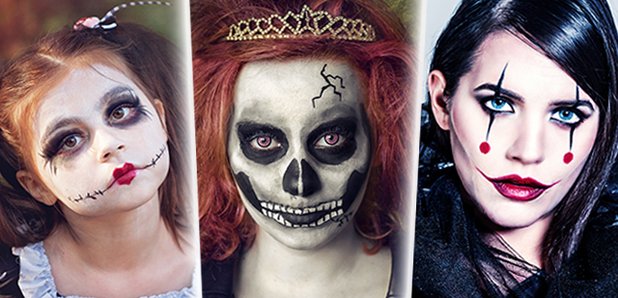 Sometimes, simple is most effective!
Over the years, Halloween costumes have gotten more and more glam.
Long gone are the days of going to a party dressed as an ACTUAL witch with a pointy false nose and fake fingertips, armed with a cauldron and broomstick.
Nu-uh, no thanks.
Now it's all about looking your spooky best!
But this can come at a price - having serious make-up skills.
Not all of us are blessed with such abilities, and scrolling through social media trying to find inspiration that's VAGUELY achievable can sometimes be a tad demoralising.
So we've found some of the best spooky make-up trends to team with your perfectly crafted outfit - ones that only require a reasonably steady hand and a small side-helping of patience.
1. 'Batliner'
If just the idea of working with liquid eyeliner causes involuntary twitches in your hand, don't fret. The best thing about the Batliner craze is that there IS room for error (thank goodness), because as long as it looks vaguely bat shaped, it works! It's Halloween after all, so anything goes.
2. Ombre lips
Simple - yet effective. Different shades of red create a bold statement for your lips, as well as give you a 'Halloween' vibe. Oh, and it looks amazing!
3. Elegant Clown
Not all clowns have to be scary! When you break it down bit by bit, this idea is really simple. And you can have a bit of fun making it unique - change the colours, tweak the shapes - do whatever floats your boat!
4. Cracked Doll
No need to 'crack' under the pressure with this design! It's the perfect mix of 'stylish yet spooky' - and we love it! Achieve the cracks with eyeliner - so simple!
5. Stitches
The best thing about the good old-fashioned stitch design is that you can literally put them anywhere! Arms, legs, face, neck - it's a good way to complete your Halloween look and will only take a minute! You can use whatever make up is at your disposal to create this look - blushers, lipsticks, eyeliner - mix it up!
WATCH: Make Cookie Spiders As A Cheeky Halloween Snack!