Doing This ONE Thing On Halloween Will Help Keep Your Kids Safer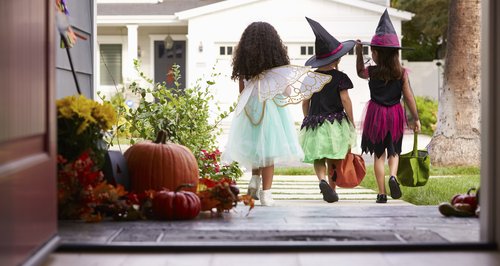 After recent horror stories about high street Halloween costumes, we take a look at ways to take precautions at this time of year.
In the past couple of years some horrific revelations have come to light about the safety of children's Halloween costumes from high street shops.
Particularly notable was an incident in 2014 involving 44-year-old TV presenter Claudia Winkleman's daughter Matilda, who was left badly burnt when her Halloween costume caught on fire.
It has since come to light that high street stores simply weren't making Halloween costumes using safe and inflammable fabrics, except chosing cost over quality.
But another shock was that the costumes were classified as TOYS rather than clothing, meaning they didn't fit the same safety standards as most dresses and outfits.
The most sensible thing you can do when buying a costume for your child this year is check the label for a visible CE mark and the words 'flame resistant' .
Flame resistance is of course a huge contributing factor to the safety of an outfit around lit candles and pumpkins but a CE mark on a garment also means it complies with the EU health, safety and environmental regulations.
What else can be done to be as careful as possible this Halloween?
Opt for costumes made of one material rather than many
Costumes made up of one type of material are likely to burn slower should they come into contact with a flame than garments made up of many fabrics which could even add fuel to the fire.
Put normal clothes underneath the costume
This creates a barrier between the skin and the costume should anything happen.
Be careful of capes and other accessories
These additional parts to the costume can sometimes be the most hazardous as they can drag along the floor and not only be tripped over but also have the potential to catch on lit pumpkins.
They may seem like simple solutions but they all count towards hopefully making your child's Halloween costumes safer this year!