Here's How To Stop Those Annoying Spam Events In Your Phone Calendar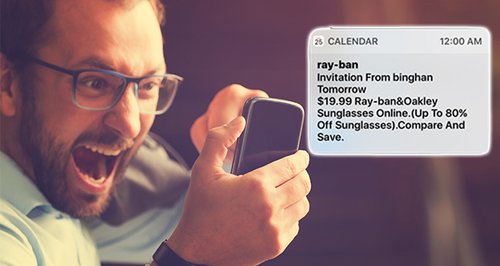 Do you ever get an event randomly appear in your calendar on your iPhone advertising a flash sale? Well, loads of iPhone users have been complaining about it - and this is how to stop them!
Apple iPhone users have been flooded with spam events being sent to their iCloud account email addresses so that they appear in their iCalendars.
Some users are even complaining that they are seeing spam appear in their iCloud Photo Sharing folders too. If this is you and you find them incredibly annoying, here's how to stop them.
This is a new kind of spam to me. Somehow this month-long event invite showed up on my iCloud calendar. It's from snowboot-hut dot com pic.twitter.com/e89RpsNpSN

— Chris Owens (@ocell) November 18, 2016
The problem happens because iOS – the mobile operating system that powers iPhone, iPad and iPod Touch – and macOS automatically scan your inbox for calendar invites and fills your calendar with anything that it finds with a date. It's a useful feature, so you don't have to add dates manually.
However, it's clear that someone has broken the system and hijacked the feature to fill your calendar with junk adverts for UGGs and Ray Bans.
To make matters worse, if you click to Decline the event, it lets the spammer know the email address they have used actually works, leaving you subject to more calendar invites.
One solution to this is to create a new calendar within the app called 'Spam' and move all of the spam invites there. Then, delete the calendar.
This means that your personal calendar won't be interfered with by spam invites.
Another solution is to disable the auto-add calendar feature from your iCloud account but that does mean that all of those dates that aren't spam will have to be added manually.
To disable the auto-add feature head on over to iCloud.com and login to your account.
1. Go to Calendars, and click on the Gear icon.
2. Select Preferences from the Gear menu, then tap Advanced
3. Scroll down to Invitations. Choose the option to receive event invitations via email, rather than in-app notification.
4. Click Save.
There you go! You won't see anymore of the spam invites clogging up your calendar any more.
You're welcome!