Hidden Gems In the South East You Need To Check Out This Winter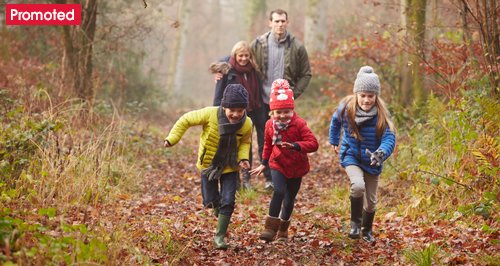 Want to take the kids on a day out this winter? Don't miss these fantastic under-the-radar destinations in London, Kent and East Sussex.

It may be cold, wet and windy outside but don't rush to turn the heating on just yet! There are plenty of amazing hidden gems in London, Kent and East Sussex to keep you and the family busy.
Take a look below and start pencilling some dates in your diary...
Explore The Pantiles in Tunbridge Wells
This picturesque shopping street is a fantastic example of a Georgian colonnade, which means lots of columns all connected together. Not only does it have a real Jane Austen flair, but there's plenty to see and do, including art galleries, bars, restaurants and independent shops.
Don't forget to check out Tunbridge Wells' Christmas ice rink at the Calverley Grounds while you're there!
Whatever the season, we always think #ThePantiles looks beautiful! Lovely to see the changing colours at the moment. :) #Autumn #Kent pic.twitter.com/MrYaSnv8BN

— The Pantiles (@ThePantiles) October 20, 2016

Relive the Tudor era at Deal Castle
Get into the mind of King Henry VIII by exploring Deal Castle, an artillery fort built right on the coastline to protect against a French invasion in 1540. It's a bit spooky in places, but anyone with a flair for history is going to love this! Plus, you can help yourself to a traditional fish and chip supper on the beach.

Go on an adventure in Chislehurst Caves
Enjoy a lamp-lit guided tour of this incredible cave system, which is actually 22-miles long! Your tour guide will point out incredible facts about the cave while you wander round, but be warned...IT'S DARK.

Step inside the subterranean Shell Grotto in Margate
The story goes that in 1835 Mr James Newlove lowered his young son Joshua into a hole in the ground that had appeared during the digging of a duck pond. Joshua emerged describing tunnels covered with shells. He had discovered the Shell Grotto, which is 70ft of winding passages covered in more than 4.6million shells!! Amazingly, no one knows how it got there or why... you'll have to decide for yourself!
Lewis Carroll came to the Grotto on 28 Sep 1870, described it as "a marvellous subterranean chamber, lined with elaborate shell-work". pic.twitter.com/BWAHWWUSZ9

— Shell Grotto (@shellgrotto) September 27, 2016

See the stars at the Royal Observatory in Greenwich Park
Not only does Greenwich Park have fantastic views of London, but it also boasts the Royal Observatory for stargazers old and young. The site has played a major role in the history of astronomy and navigation, and there's even a Planetarium on site to spark your imagination. This is one not to miss!
Want to learn about astronomy in one of the most important astronomical sites in the world? https://t.co/BVyCPi6YGF pic.twitter.com/88jkhPdh1Y

— Royal Observatory (@ROGAstronomers) September 7, 2016

Feel artistic in The Creative Quarter, Folkestone
This artistic area has become a destination for creative people, with art studios and booming businesses on every corner. It's a fantastic place to discover brilliant works of art, but also to take part in crafty projects, late night shopping events and carol services. Perfect for kids who like to make their own masterpieces!

Discover Medieval mysteries at Hastings Old Town
This beautiful medieval town on the East Sussex coast is perfect for a day out by the sea. Think historical architecture, brisk strolls along the beach, festivals, carnivals and tasty afternoon tea. What's not to love?

Enjoy tasty treats at The Fudge Kitchen in Canterbury
If you're looking for a sweet treat this winter then look no further than The Fudge Kitchen. With shops in Canterbury, Oxford and many more, this business has become one of the nation's best fudge aficionados.

What are your hidden gems in the South East? Let us know below...