Brunette To Blonde! Expert Tips You Can't Go Wrong With.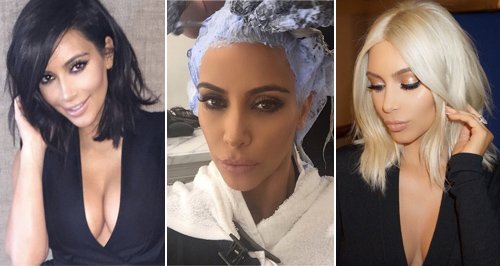 If Kim Kardashian's blonde locks had you feeling inspired, L'Oréal Colour Trophy Award 2014 winner and hairdresser to the stars, Jamie Steven's expert tips for dyeing and maintaining blonde tresses will have you looking fabulous this summer.
I have always been a brunette, how do I judge which shade of blonde will suit me best?
When it comes to blondes there are generally two tones, cool or warm. The best little test that I swear by is to get two sheets of paper or material with two different tones and put them next to your skin to judge which makes you look fresher, because too much of either can wash you out. Kim has a more olive skin tone and dark hair, so I think she should have gone for a warmer ashy blonde.
Is there anyway to go from dark to platinum, without having to go through that awkward yellow stage?
Don't ever expect to go from dark to blonde in one session. Anyone looking to have a drastic colour change needs to understand that's it's a process, a journey and you'll have to accept that your hair isn't going to be the colour you want straight away.
It's best to go into the salon mid-week, get as much lift as you can, but a three to four day resting period with lots of at home conditioning is essential.
Kim Kardashian may have made it look easy, but I know that platinum shade took at least three days to complete, and even that is too soon and damaging for the hair. I predict she will have to cut her hair short very soon, because her hair has been processed so much, you can already see it's starting to look really damaged.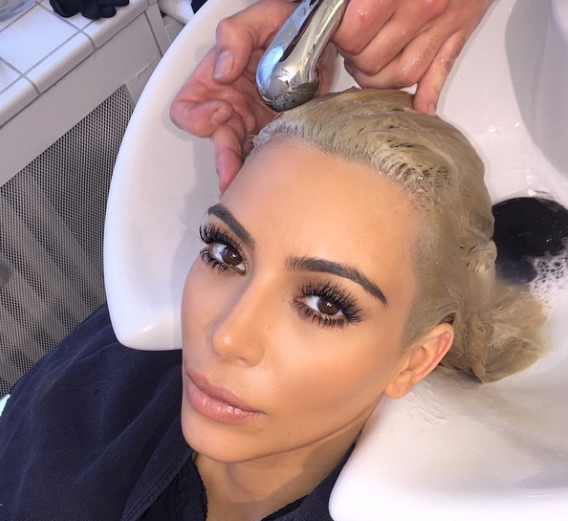 Is there anyway I can achieve this look at home, or is a professional essential?
Obviously there are a plethora of products on the market for at home colouring, but in my opinion you will never get salon results with home colour so it's not something I would recommend - especially because many people fail to do the appropriate strand tests and patch tests which can lead to serious skin conditions and or loss of hair. If your thinking about making such a drastic colour change, a professional is always best!
I dyed my hair myself and now it's got a brassy orange and yellow tones, what's the best way to correct this?
Firstly, if you're going from dark to blonde at home be aware that you're probably not going to get more than five shades of lift, which is why you're likely to get these results. If the inevitable has happened, and you have done a dodgy D.I.Y job, the best thing you can do is invest in some good toning products.
A silver shampoo can work wonders! The purple tones in the shampoo will cancel out the yellow and this is a must have for anyone who has shades of silver, grey or blond, especially if you want vibrant tresses.
Toning shampoos are also a great investment for smokers who want to revive blonde hair made dull by the toxins from cigarettes.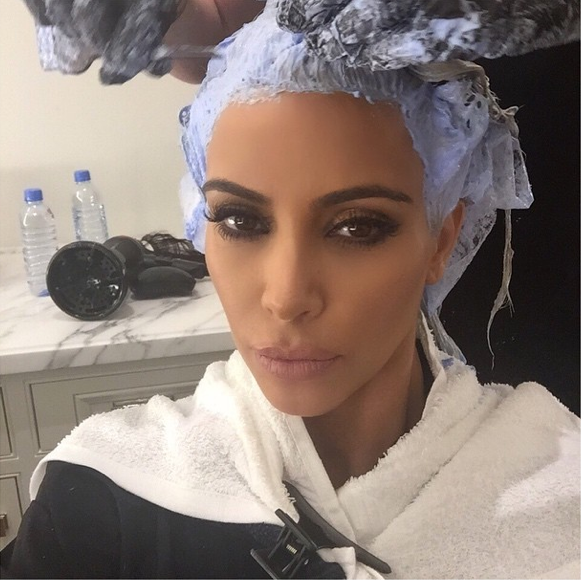 What's the best way to maintain healthy blonde hair and repair chemically frazzled locks?
Blonde hair takes a lot of work, and you'll need to be prepared to get a root touch up regularly. However you don't have to go to the salon to deep condition your hair as you can do this at home too!
If your hair needs a treatment and you want to spare the pennies, then I would recommend washing and conditioning your hair but only rinse out 20% of the conditioner. Then wrap your hair up lightly in cling film or a plastic bag, and leave it on for 1 to 3 hours. This will trap the heat from your head and allow the conditioners to really get to the root of your hair.
I'm naturally blonde, what's the best way I can get lighter locks without using any damaging chemicals?
Silver shampoos, toners and wash-in wash out hair dyes in shades of honey, or champagne are a good start, or even simply a colour shampoo with a hint of semi-permanent colour in the product is a fab way to brighten up your hair.
What is the best way to cover grey hair?
In my opinion if you have more than 90% grey or white hair you really are blessed! A lot of people think grey hair is ageing but there are lots of ways you can work with grey hair to keep you looking young and fabulous.
The tone you chose really depends on how much salt and pepper greys you have, but I would recommend a clear colour gloss which will work with the variation of tone that your hair naturally has. It's reflects the light too which is perfect for shine, and is really conditioning for the hair.