Here's How You Can Help The Homeless During The Cold Weather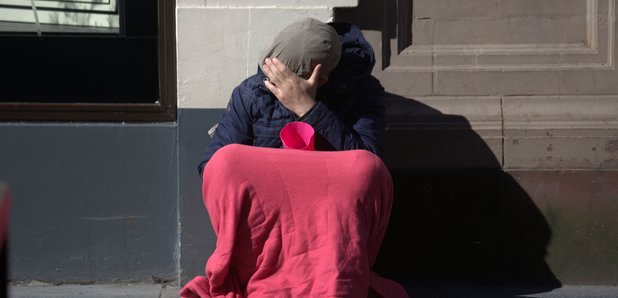 As the weather takes a cold turn, spare a thought for the thousands of homeless struggling on the streets.
Thanks to the cold spell dubbed the 'Beast from the East' things have taken a snowy turn across the UK.
It's easy for us to moan that we're cold on the commute to work or as we head out to the shops but at this icy time spare a thought for the people who spend their lives on the streets.
In January the government published a report that revealed 4,751 people spent a night on the streets in 2017, 15% more than in 2016, and the numbers are growing.
We should be looking out for our country's less fortunate all year round, but at a time when dropping temperatures can be life threatening for those on the streets here's how you can help.
StreetLink are a charity that aims to end rough sleeping by running a service that enables members of the public to "connect people sleeping rough with the local services that can support them."
With another drop in temperature & snow predicted - please don't forget to use https://t.co/GHb8gNJR1U or download the app to tell us about a person sleeping rough. Watch our latest video on the impact of connecting someone to @Tell_StreetLink. https://t.co/qJaXD2wuat

— Street_Link (@Tell_StreetLink) February 25, 2018
If you are in England or Wales, this is a charity run service that you can use to help those who need it most. They ask you to provide details of when and where you may have spotted somebody homeless and they will endeavour to reach them on their regular patrols.
You can reach StreetLink online where you are required to fill out a form about the person you are referring but it is worth noting that as much information as you can gather is crucial.
Homeless people are at an even higher risk at this cold time of year | Picture: Getty
Take note of what time you saw the person, where they were and as many details about what they look like as possible to help the volunteers spot them.
StreetLink doesn't operate in Scotland but this is because local authorities are obliged to house homeless people the same day they are reported. The way this works operates on a local basis but Shelter have a list of organisations that can help if you are based in Scotland.