Husband gives the most classy clapback to trolls who tried to shame a mum-of-six's stretch marks
25 August 2018, 12:53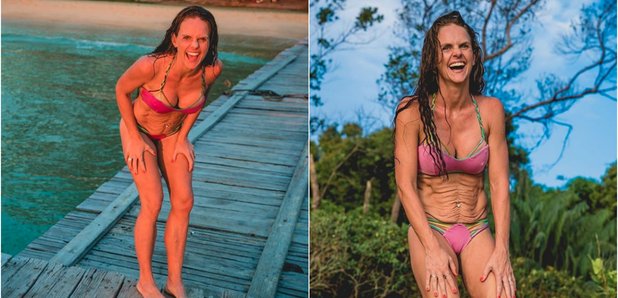 Can anyone say husband goals!
Throughout the years, women's bodies can go through a lot, including getting a few stretch marks after giving birth.
But one woman received a lot of hate online after openly embracing her tiger lines...and her husband wasn't having it.
Mum-of-six Sharny Kieser became the subject of trolls after posting pictures of herself in bikinis, showing off the stretch marks on her tummy.
So when the negative comments starting coming in, it was Sharny's husband Julius who decided to take a stand against the body shamers, not just for Sharny but for 'EVERY mother'.
Posting an image of his wife on instagram, he wrote: "Last week, I posted a photo of Sharny with her tummy out and a young girl said 'at least photoshop the disgusting stretch marks out'"
"I think they're beautiful. I think they symbolise the strength of a mother who brought 6 children into the world. Not just this mother, but EVERY mother."
He continued: "I believe that a body of a confident WOMAN (like this) is far more beautiful and sexy than the body of an insecure GIRL (what you normally see on social media)."
You tell em' Julius!
Alongside looking incredible for having had six children, Sharny and her husband Julius are fitness gurus that have launched two health and fitness programmes for parents.
Earlier this year, Sharny opened up about her previous insecurities with her body, revealing that it took a lot to love the body that she's got.
She wrote: "I'd do anything for my kids. One those things was getting over my insecurities around my mummy tummy.
"For my 5 sons: If I behave in a way that shows them my mummy tummy is gross, how will that help their future wives (and marriages)?
"For my daughter: If I am ashamed of my tummy and hide it, she will be afraid of having babies one day because of what it does to her body.
"I don't ever want my kids to know what it's like to hate their own bodies. It's taken a lot to get to the point now where I actually love my body. All of it."
Sharny and Julius, you rock!