June Horoscopes 2018: Russell Grant reveals what the stars have in store for the zodiac signs
1 June 2018, 00:01 | Updated: 12 November 2018, 16:35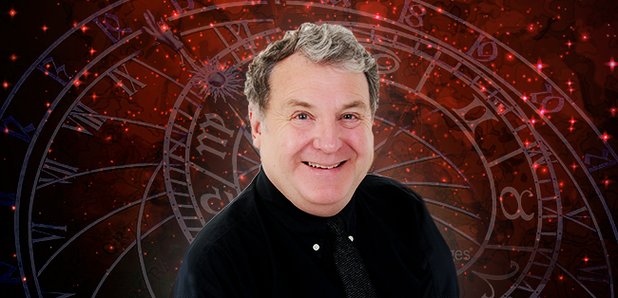 The iconic astrologer shares his horoscope predictions for the month... and says the New Moon on the 13th is bringing some VERY big changes.

The New Moon on the 13th invites you to make a sales pitch, begin a social media campaign or start a writing project. At times, you'll become muddled. When this happens, step away from your work and keep busy with routine chores. After an hour or two, a breakthrough will occur. Before going public, make sure you show your work to a person whose opinion you trust. They'll alert you to potential problems. Instead of clinging stubbornly to your original version, be willing to tweak it. The more user-friendly your work is, the more successful it will be. It's possible you'll leave one job for another on the 28th, when the Full Moon marks a turning point in your career. Accepting a position with heavy responsibilities will work well for you. These considerable duties would make many people crumble, but not you. Your peers and superiors alike will admire your hard work, tenacity and strong leadership ability.

A fresh moneymaking opportunity will arrive on the 13th, courtesy of the New Moon. You will enjoy the work involved, but your colleagues will be less than impressed. Your hard work and diligence will be seen as a threat. Instead of trying to win the approval of the group, remain true to your style. Your employer will reward your diligence with plum assignments. Soon, you'll be able to leave a lacklustre department for a more successful one. The Full Moon on the 28th will find you collecting a degree or certificate. Alternatively, you could have a piece of written work published. You've been working hard to acquire expert knowledge. Reaching your goal is cause for celebration. Once the party is over, you'll have to go straight back to work. Although you will long for more down time, it will be gratifying to secure a job so soon after you've established your mastery.

You're ready to make a fresh start, but don't make any changes that will compromise your professional prospects. Getting a radical hairstyle or adopting a fashionable and stylish look could put you out of the running for an impressive job. It may be better to adopt a temporary change that can be easily abandoned when it's time for work. Although you hate being held hostage by conservative attitudes, it's better than being out of a job. On the 28th, your deepest feelings will come out in the open. It will no longer be possible to hide your passion, anger or resentment. If you've developed a crush on someone special, confess. Are you upset at someone who has dumped their responsibilities on your shoulders? Put your foot down. Coming clean will relieve a great deal of stress that has been building. It's also possible that a car or appliance will break down. Choose a replacement that has a reputation for being well built.

On the 13th, you'll feel the urge to rest, relax and recuperate from a busy social season. Before you get too comfortable, you will have to attend to a legal or business matter. Giving a court deposition or going on an overseas trip for work will keep you busy towards the middle of June. Once you've crossed this big responsibility off your list, you'll be able to take a break from the action. The Full Moon on the 28th brings a partnership or contract to completion. After fulfilling your responsibilities, you might be pressured to keep this arrangement going. Be ready to break away, even at the risk of looking callous. Bigger and better opportunities await you. You're tired of waiting on a hypercritical person who is never satisfied with your efforts. Working for appreciative people who value your efforts will give your confidence a big boost. Say your goodbyes and take the first step to a more rewarding future.

A cutting-edge collaboration will be more challenging than expected on the 13th, due to a tense New Moon. There won't be enough money in the budget to do this project justice. As a result, the team will start squabbling. If someone tries pinning the blame on you for this failure, fight back. You can't afford to have this shoddy work palmed off on you. If you meet a charming person at a party in mid-June, think twice about giving your personal information to them. You don't want to become victim to somebody who preys on strangers for money, influence and status. The Full Moon on the 28th prompts you to reconsider how you are using your time, money and energy. Being more resourceful will help you meet increased personal and professional responsibilities at the end of June. If you feel tired and anxious, scale back your schedule and get your rest. Don't push your body past the breaking point.

A career opportunity on the 13th isn't all that it is cracked up to be. The New Moon is urging you to make a job change, but there will be hidden elements to this job that are very unpleasant. Working for someone who isn't sure what they want will be maddening. It's better to hold out for a boss who has an impressive track record. If you're put in charge of a division that lacks adequate funding, you should avoid making grandiose promises. Be truthful about what you can accomplish with such a limited budget. On the 28th, the Full Moon will mark a turning point in a romance or creative project. You might decide this relationship or venture is just too much trouble. The last thing you want is to be stuck in a situation where you're doing all the giving without receiving anything in return. Raise your standards at the end of the month.

An opportunity to travel, publish or teach will arrive on or around the 13th, thanks to an adventurous New Moon. There will be strings attached to this opportunity, so beware. Hidden expenses, additional responsibilities or inflated promises will make you regret your decision. Instead of dwelling on your disappointment, try making the best of a bad situation. This experience will enrich your horizons, but only after it has tested your patience multiple times. The Full Moon on the 28th creates drama on the family front. A stern relative may discourage your plans to become more independent. Instead of letting this family member break your spirit, renew your resolve. Moving into your own place or becoming romantically involved with someone they dislike will be empowering. You're tired of winning other people's approval at the expense of your own happiness. Stand up for what you want, even at the risk of having a quarrel.

An investment opportunity arriving at mid-June is too good to be true. The New Moon will tempt you to back this exciting venture on the 13th, but all is not what it seems. You're dealing with someone who talks a good game but has nothing to show for their claims. After doing some research into their background, you'll decide it's better to keep your hard-earned cash in the bank. Advise friends and family to stay away from this manipulator, too. On the 28th, the Full Moon will prompt you to say what you see. Confront someone who is taking advantage of their position. You're the only one brave enough to challenge their abusive behaviour. If you remain silent, lots of vulnerable people will be hurt by their actions. Notifying the media can lend extra weight to your warnings. The last thing people like this want is negative publicity. Call their bluff.

On the 13th, the New Moon will tempt you to enter into a business or romantic relationship. Don't jump into anything too quickly. Your feelings are muddled and with good reason. You're dealing with someone who blows hot and cold. Trying to anticipate their reactions will be a waste of valuable energy. Hold out for someone who says what they mean and means what they say. The Full Moon on the 28th brings a nice little boost to your bank balance, but you'll have to spend it on some expensive necessities. Take this opportunity to replace kitchen appliances or computer equipment. Alternatively, you might have to buy a car. Such a purchase may be boring, but it's essential to your day to day operations. If you don't have reliable equipment, you'll lose the lucrative work assignments you desire. Postpone luxury purchases for another time and meet practical needs instead. Even a dreamer like you needs a secure base from which to launch bold ideas.

Starting work on a project will be cause for alarm in mid-June. Someone who isn't clear how this work will be performed will give conflicting instructions on the 13th, due to a deceptive New Moon. It will take a great deal of time and energy to sort out your priorities and form a plan of action. With a great deal of patience and persistence, you'll figure everything out. Don't let the head of this operation take credit for your hard work. Your colleagues will rally around you, insisting you are put in charge of future operations. The Full Moon on the 28th will invite you to do something special for yourself. Instead of putting other people's needs first, you should enjoy a spa treatment, holiday or afternoon nap. If anyone dares accuse you of being lazy, be prepared to set the record straight. You're tired working around the clock while everyone else has fun.

The New Moon on the 13th opens the door to a passionate relationship. Beware of trying to buy someone's affection. If this relationship is meant to be, your amour will be satisfied with you on any terms. You deserve to be loved for who you are, not for your purchasing power. If you're already in a relationship, an argument over an ethical matter will break out. It's time to decide whether you can stay with someone whose values are radically opposed to yours. On the 28th, you will be challenged to let go of an old grudge. This doesn't mean you have to forgive someone who performed a terrible injustice. It does mean you must train yourself to release your anger and resentment over this issue. Stop dwelling on this betrayal and set your sights on the future. The sooner you make a fresh start, the happier you will be.

Finding a place to live will be more challenging than expected. The New Moon on the 13th invites you to lower your expectations about living spaces. You can have two of three options: Cheap, well-located and luxurious. Getting all three is impossible. The sooner you accept this inconvenient truth, the easier it will be to find a spot to rest your head. The Full Moon on the 28th could cause you to break away from a group that no longer meets your needs. An influential member will be personally insulted by this defection, but it can't be helped. Remaining part of this organisation will compromise your reputation. Take a stand and assert what you truly believe. You'll be lonely at first, but this will be better than feeling like a hypocrite. Soon, many other members of the group will follow your lead. There is something rotten in Denmark. Exit stage left.
"Speak to Russell's Psychics & Mediums for guidance to your questions – Call 0906 539 1496 (*£1.50p per min plus phone providers access charge,18+) or to pay by Debit/Credit Card Call 0207 111 6162. Quote HEART RADIO when you pay by card and save £20 off a 10 minute reading"
"Text Russell's Psychics for guidance and enlightenment: Text CHARM and your question to 78887. The first 3 replies are FREE for new users**"
Terms and conditions
"*Calls to 0906 cost £1.50p per minute plus your phone providers access charge. 18+ only. All calls are recorded for your protection and safety. This entertainment service is regulated by the Phone Paid Services Authority and is provided by Inveroak. Customer Service 0207 111 6162"
"**Offer redeemable once for new users. First 3 replies are Free. Subsequent messages are charged at £1.50 per message received. Max of 2 replies per message.18+ only. We may send you Free promotional messages, to opt out call our helpline on 0207 111 6210. Entertainment only. Service provided by Inveroak.com"