Shotgun Vegas Wedding? Think Again. Sin City Is OFFICIALLY The Most Romantic Wedding Destination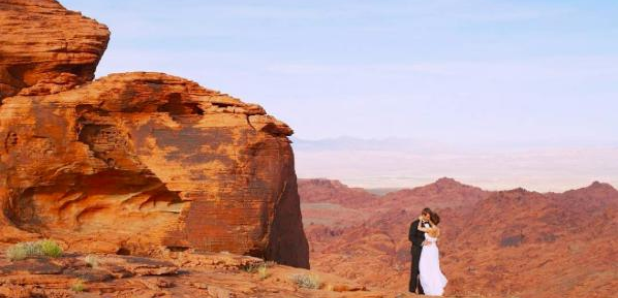 The days of getting married by an Elvis impersonator is over as Las Vegas is offering some fairytale weddings.
When you think of Las Vegas, the words bright lights, casinos and debauchery definitely comes to mind - especially, when thinking about the hordes of bachelor and bachelorettes who make the pilgrimage to Sin City every year looking for an experience much like Bradley Cooper in 'The Hangover'.
What about a wedding?
For years the city has prided itself on being the marriage capital of the world, due to the ease of acquiring a marriage license with very little cost, but it hasn't exactly topped the list of destinations for brides to be when looking for their dream 'princess' wedding.
Why? Well, if you type "wedding chapel Las Vegas" into Google you're instantly met with hundreds of images of tiny chapels, and naturally, your mind draws comparisons with shotgun weddings, Britney Spears' 55-hour marriage and THAT famed scene from 'Friends' which saw Ross and Rachel tie the knot after a boozy night out.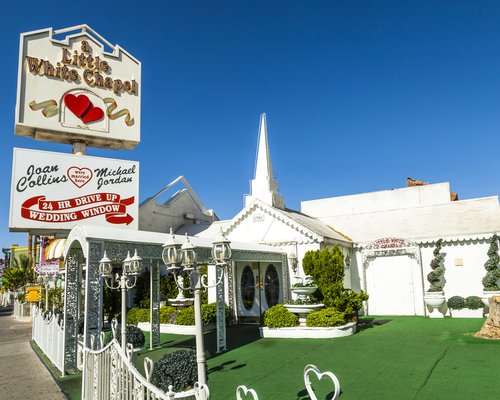 While Sin City still proves a top choice for brides looking to say a quick "I do", the reputation of the city as a wedding destination is now going through a renaissance.
More couples than ever are heading to Las Vegas in order to live out their dream wedding day in the city that hosts some of the world's most luxurious hotels.
Unlike some of the more popular destinations such as the Caribbean, each venue has something different to offer and if you embrace the city for all of its quirks, you're guaranteed to have a special day that's truly unique.
The Las Vegas strip might only be 4.2 miles long, but it's about the only place on earth where you can walk along the cobbled streets of Venice, Italy one moment and gasping at the stunning ancient architecture of Greece the next.
So what does Sin City have to offer a bride? We take a look at just some of the venues and activities to make your wedding a trip to remember.
Brides seeking luxury: Caesars Palace
This sprawling 300,000 square foot hotel has featured in a string of Hollywood movies, but the world-renowned luxury hotel and casino has a lot more to offer than just a boozy weekend away.
Hidden in within the hotel's palatial grounds, you'll find the intimate Venus Garden, perfect for saying "I do".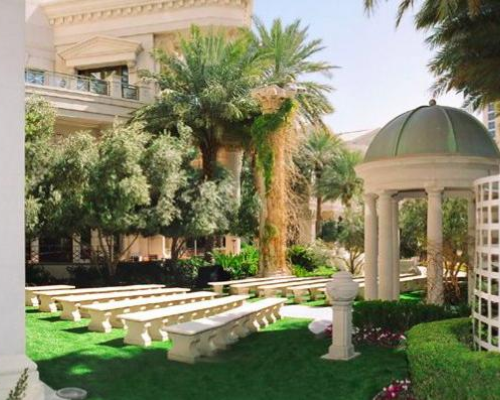 A winding pathway scattered with petals is where the bride will make her final walk as an unmarried woman towards a Roman-style temple, where her groom awaits her.
Greek-style benches carved from stone are where up to 114 guests can witness the nuptials, and with packages starting from just $1,299 (£1,046) you'll also get violinist to serenade you.
High Rollers can splash out on the penthouse suite at the super-exclusive Nobu Hotel, found only through a very discreet reception area within Caesar's palace.
The swanky penthouse spans over two floors, and while it could make for a luxurious wedding venue, we think it's sexy interior is much better suited for a naughty hen do.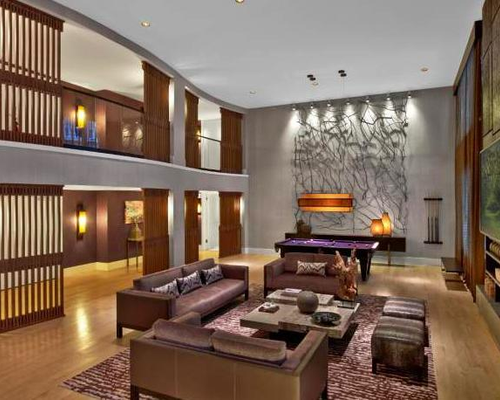 If you decided to carry your hens here, seek comfort in knowing it's a favourite with a number of A-list celebs, who have been known to throw a few wild parties. (If only walls could speak, eh?)
The hefty price tag makes it unobtainable for most, but if you're one of the lucky few who's able to splash out on your nuptials in this venue, then make sure you opt for the San San Kudo, which celebrates the ancient Japanese tradition of sharing sake to symbolize a formal bond between the bride and groom.
Brides seeking romance: The Venetian
There's no doubt that Italy is one of the most romantic places on earth, and The Venetian has replicated some of Venice's iconic landmarks such as the Palazzo Ducale, Piazza San Marcoto and the Rialto bridge to create a truly stunning hotel, meaning that brides looking for a romantic backdrop won't be short of choice.
Take a walk through the hotel's cobbled streets and hop onto a gondola to say your vowels while a gondolier takes you along the canal, or pose for wedding photos in front of the gorgeous Palazzo waterfall.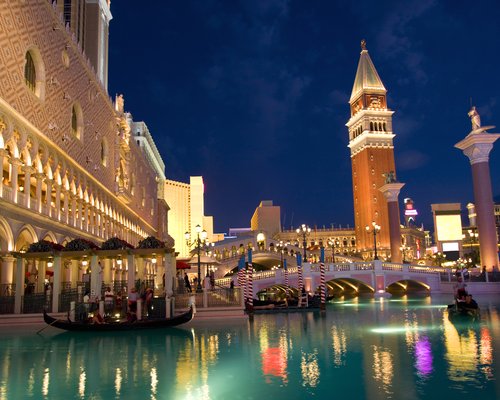 The chairman suite might be a favourite with high-rollers headed to the city to gamble their millions, but it also doubles up as a dreamy wedding location.
Offering up three huge bedrooms, walk-in wardrobes, a cinema and massage room; this dazzling suite offers couples the chance to tie the knot from a terrace complete with breathtaking views of the mountains in the distance.
Brides seeking breathtaking views: The Grand Canyon
Couples looking for romance as well as adventure might want to celebrate their special day at one of the seven natural wonders of the world by hopping aboard a helicopter over the Grand Canyon.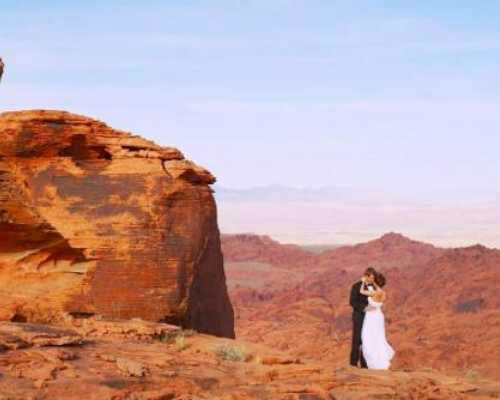 Soar through the sandscapes of the Mojave Desert, across the shimmering teal blue waters of Lake Mead and over the Colorado river before landing in a secluded spot in the canyon where you'll toast your wedding vows with champagne.
Packages with Sundance helicopters start from $4,372 (£3,522) for a 3.5 hour trip including the ceremony, but when you think about the cost of a wedding back home, it's a steal and the memories are priceless.