Life Hack: The Best Time Of Year To Shop And Get The Biggest Discounts Going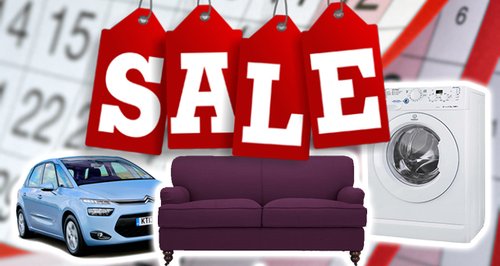 Laptops, garden furniture and white goods are expensive. Here's your break down of the best time of year to get the biggest savings!
Saving money is one of the top things on our to-do list but when it comes to the expensive products, saving money with certain discounts never seems to be enough.
We all know about the January sales and sometimes the Summer sales are good too, but what if you're looking for a new TV any other month of the year?
Well, thanks to credit card company marbles.com, we can now save money by buying the products we need in the month with the biggest discounts!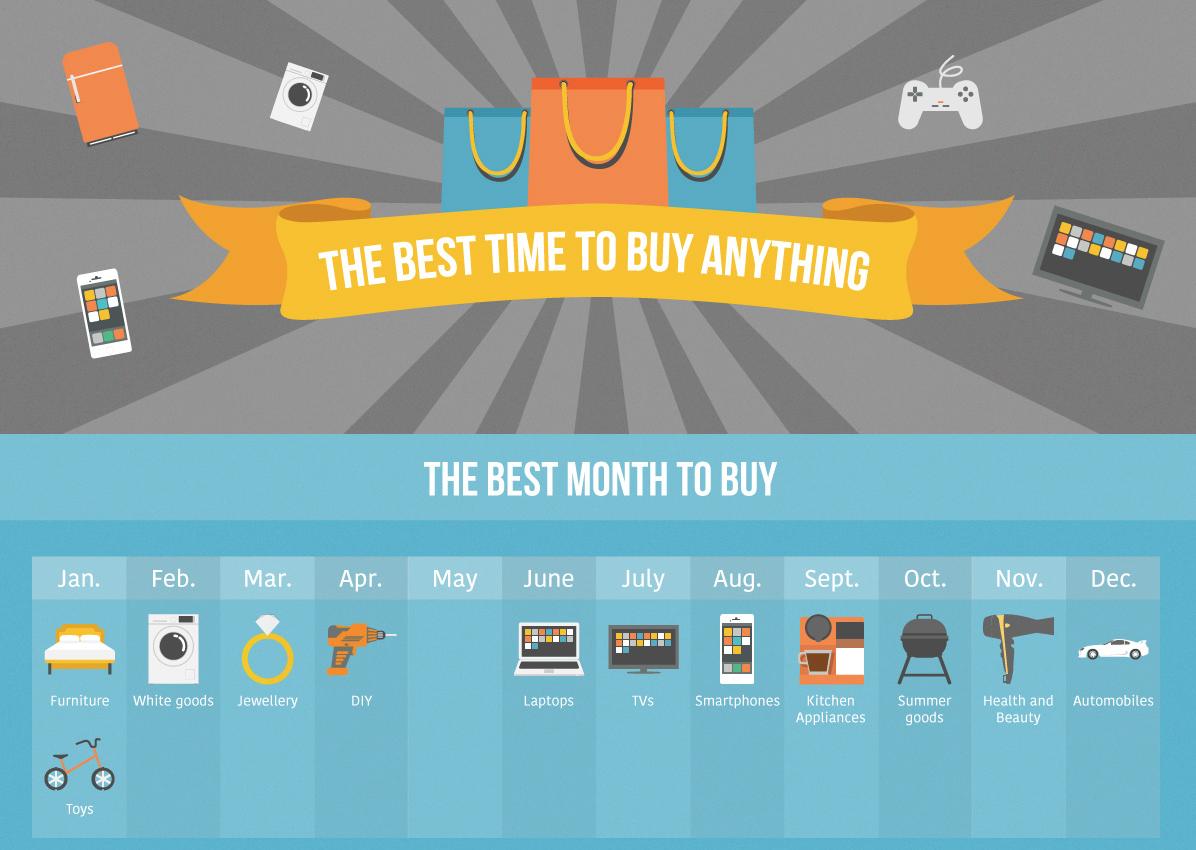 According to marbles.com, if you're looking for a discount on those particularly expensive products, don't go shopping in May!
The January sales prove to be the best time of year to seven buying house furniture, such as sofas. You can save up to 30% on a sofa and chest of drawers but the savings are even higher if you're looking got buy a bed where you can save up to 54%.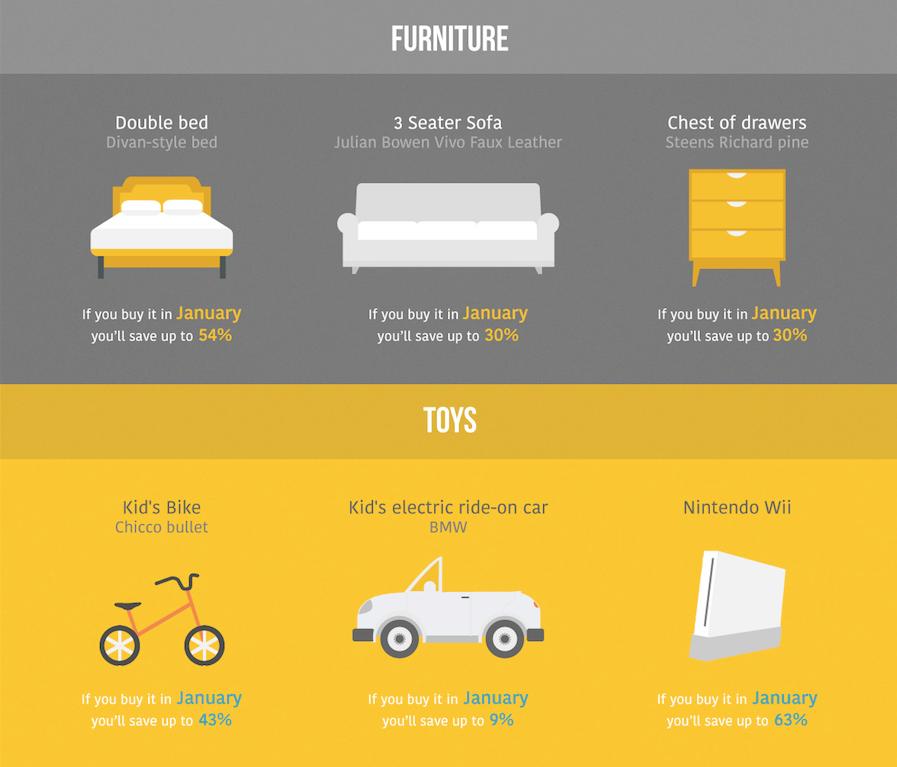 Again, it looks like the January sales are living up to expectations and buying those kids' toys at the beginning of the year in the post-Christmas lull will save you the most amount of money.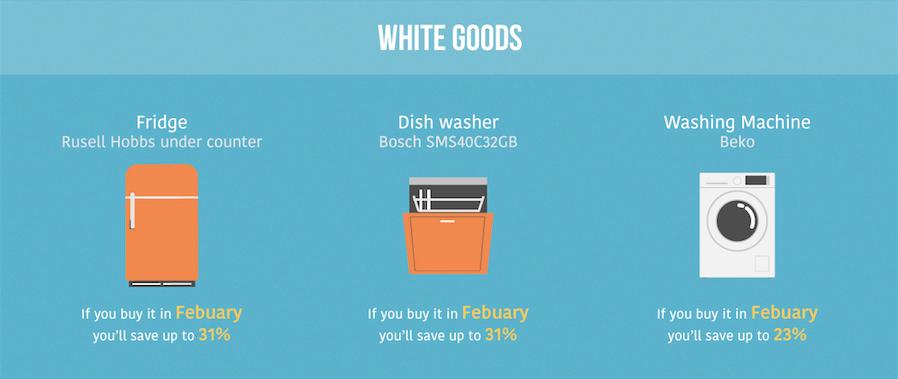 Do you ever find that when one of your white-goods breaks, THEY ALL BREAK? If this is you, hopefully they'll break at the beginning of the year so that you can make the most savings when buying the products in February.
If you're looking for some jewellery to wear to those importance ceremonies over the summer, like weddings or graduation, it's worth looking ahead and getting prepared in March, when you can make huge savings on those expensive jewels.
And if you're looking to get engaged, maybe look at buying that diamond ring in March where you can save up to 23%.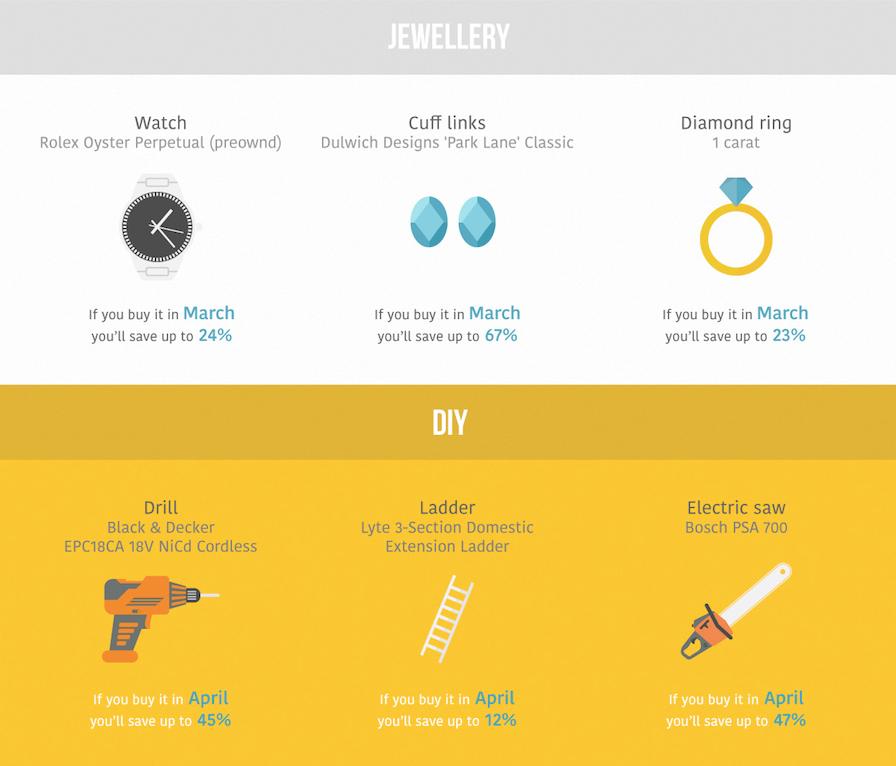 Those shelves have been sat on the floor of the wall they're supposed to be put on for the whole of winter, and a spring clean is the perfect time to finally put them up! Buying your DIY goods in April could save you up to 47%.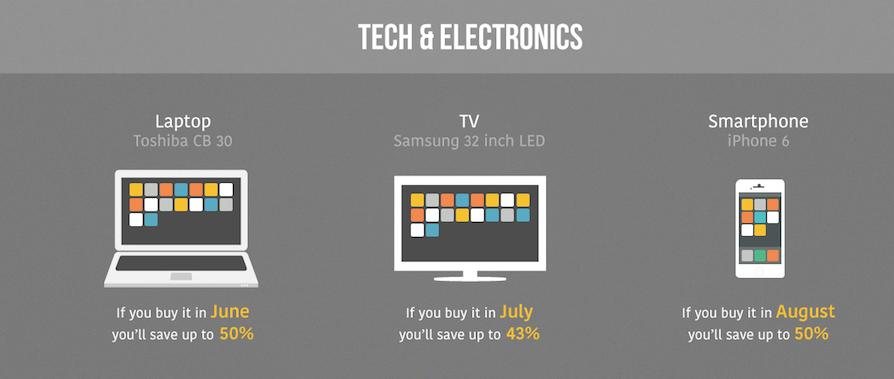 It appears that the summer is the time when you should be purchasing your new bits of technology, rather than waiting to gift it at Christmas.
The cost of your laptops, computers and phones may be halved if you purchase them in summer, rather than any other time of year.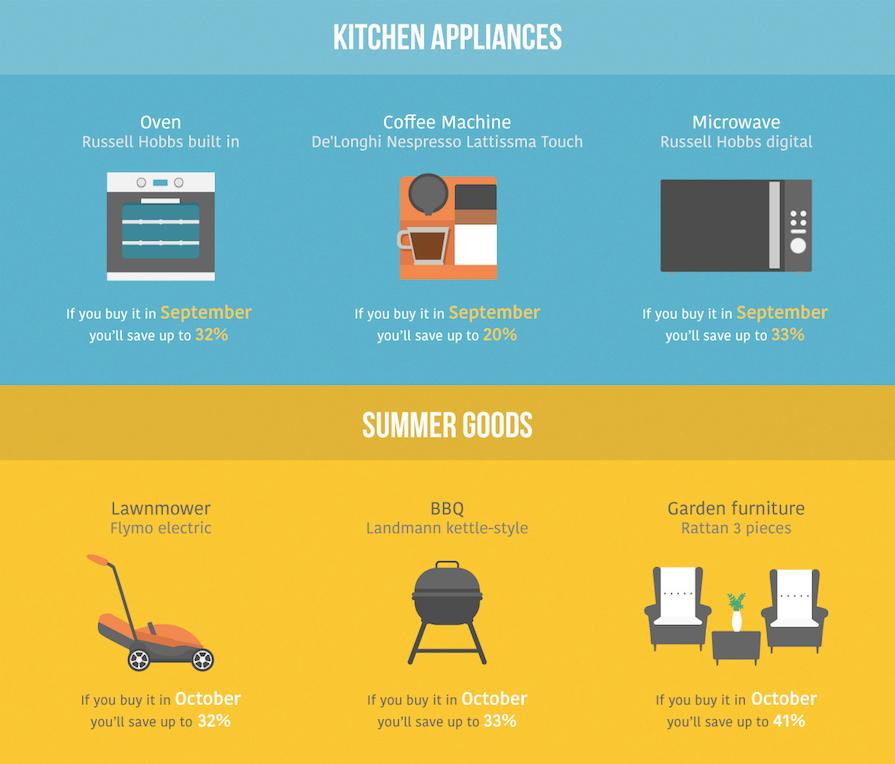 If you wait until September to change your kitchen kit then you could make savings of around 20%.
And prepare for next summer's garden parties by buying your goods almost a year ahead, at the end of summer in October. The cost of furniture is likely to be cut by a third of the original price.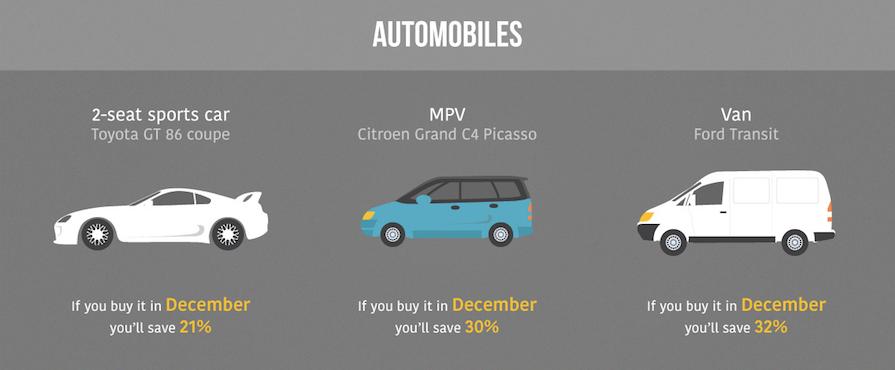 It's no secret that December is an expensive time of year, what with Christmas. But if you're needing a new set of wheels and what to reap the benefits of the big discounts, December is the time to do it.
"It's all about shopping around – but at the right time," says Thomas Cross from Marbles.com. "Even if you feel you have to have something immediately, it's always worth waiting for a bit to see if prices vary, and generally, from month to month, they do."
So think wisely before you buy! You could be missing out on some super deals.
*The discount/percentage saved on individual items is based on the best and worst prices over the course of a year.