Limited Edition Tamagotchis Are HERE - 20 Years After We First Owned One!
12 October 2017, 12:21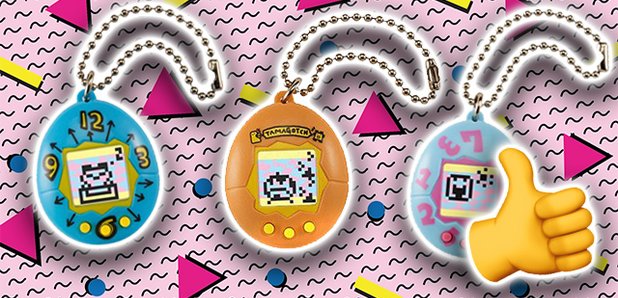 It's the 90's all over again!
Remember the Tamagotchi?
You may have had one back in your youth, but the struggle to keep it alive when it was banned during school hours was very, very real.
Or perhaps you had a weird knock-off version of the pocket pet - a parent's attempt to save money AND keep their child happy. (Mum, Dad - it was never the same FYI.)
Or maybe they thought the whole thing was a total waste of money, and you were sent to play outside instead?
Well, whatever your childhood memory of the Tamagotchi - rejoice - it's making a comeback!
This year sees the 20th anniversary of the virtual pet, and Smyths Toy Store and The Entertainer are already listing them online for a tenner. If you're planning to pop out on your lunch break, it may take longer than you think - there are six designs to choose from. The batteries are included (yessss!), so they're ready to roll as soon as you make a decision. Each Tamagotchi has 6 little eggs ready to be loved and nurtured.
The new edition of the Tamagotchi looks just like the original, but it's a fraction smaller - perfect to subtly carry around your workplace like the mature adult you are. It also has very much the same demands - it needs to be fed, to be cleaned up after, and regularly played with. Otherwise it gets super needy, or worse...!
You can also turn the sound off, so if it's in need of some TLC during an important meeting, you can tend to it in total silence.
So, now we are older, wiser and WAY more responsible(!), perhaps it's time to adopt a cute little Tamagotchi again - and this time keep it alive for more than two days.
Perhaps, if we can prove to ourselves that we can look after a Tamagotchi, we could move onto looking after a Furby?!
On second thoughts, perhaps not.
WATCH: The Tamagotchi Advert From The 90's: