Lisa Riley's inspiring advice for brides fretting about their weight
10 July 2018, 17:19 | Updated: 12 November 2018, 17:51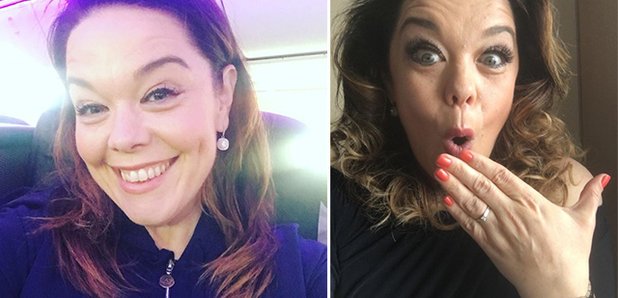 The Loose Women panelist, who has recently announced her own engagement, urges brides-to-be to embrace themselves on their wedding day.
Newly engaged Lisa, 41, passionately expressed to Heart that she believes brides should park their insecurities and feel content with their appearance in order to fully enjoy their big day.
She said: "Just have a moment to yourself in front of the mirror and realise that you're about to have the best day if your life - you're going to get married - and it's the one day you must never chew yourself up or give yourself anxiety about.
"It's once in a lifetime, it's never going to happen again, and you need to live it to the fullest.
"You must just embrace every millimetre of enjoyment...it's your day and you have every god-given right to feel happy and content in your skin."
Acknowledging that some brides may turn to a crash diet before their big day, Lisa added: "But please don't live on cucumbers for three weeks, that would annoy me...that would actually annoy me."
The former Emmerdal actress believes that everyone has their insecurities, but it's down to other people to help get rid of them and encourage body positivity.
She explained to Heart: "I don't think anyone...if they said that they were happy from their head to their toes, they're lying to you.
"We've all got bits of ourselves that we're questionable about, and as women we need to embrace that more.
"We need to tell our mates if they look gorgeous...if someone's got a nice outfit, you tell them."
Lisa has become an inspiration to many with her transparent honesty about all aspects of her life. The actress shed an incredible 12 stone in 18 months and has since encouraged others to embrace a healthier lifestyle.
After the success of her book 'Lisa Riley's Honesty Diet', the star has now released a sequel 'Lose Weight For Life', which builds upon her honest approach to her transformation.
Speaking of her new book, Lisa told Heart: "People have just had insanely brilliant results, and they wanted that aspect of more honesty about the recipes, choice of recipes, more things they can do with the family."
"I thought I'd answered every question about denial and being honest with yourself, but I realised that I hadn't even been that honest and people wanted more.
"So all the questions I got off the back of the book, I wrote everything down and thought 'this is it now, I want nobody to have any excuses, any denial, any way they can tell a porky pie'.
"I've covered everything, any query, or worry, or situation - even dining out with your friends - it's all in the new book and I'm so proud of it."
WATCH! Carol McGiffin discusses her facelift: