Little Girl Mistakes Bride For A Princess And All Her Dreams Come True
16 June 2017, 12:10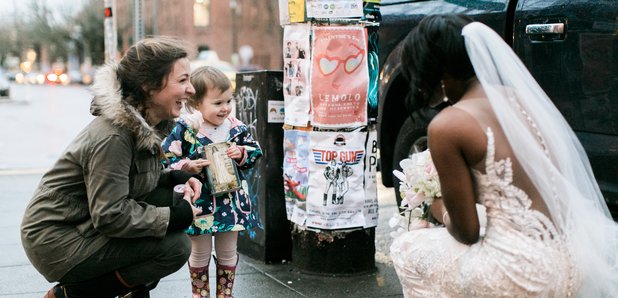 The toddler thought the Seattle bride was the princess from her favourite book.
Thanks to Disney, there isn't a little girl in the world who doesn't want to grow up to be a Princess.
So when this toddler spotted bride Shandace Robertson whilst on a walk with her mum, she could barely contain her excitement.
Little girl thought my wife was the Princess from her favorite book
Shandace had just tied-the-knot with her now husband, Scott Robertson, in Seattle and they stepped outside to take photos.
"My wife and I got married last February, and during the photo shoot this little girl and her mom happened to be walking by," Scott wrote on his imgur page. "The little girl thought my beautiful wife was the Princess from her favorite book (the one she's holding) (sic)."
As the toddler's mother explained, her daughter believed Shandace was the "princess" pictured on the cover of her favourite book, which she was holding.
The book she was clutching was 'The Woman in White' by Wilkie Collins, and whilst the book is a bit beyond her reading age and doesn't actually feature a princess, the front cover features a woman in a long white gown, to which the little girl assumed was of royal blood.
Whilst the girl's mother asked for her daughter not to be named, she was happy for the couple's wedding photographer, Stephanie Cristalli, to capture the moment.