Little Girl Gives Imaginary Boyfriend A BIG Telling Off In This Funny Video
6 July 2017, 16:27 | Updated: 7 July 2017, 09:44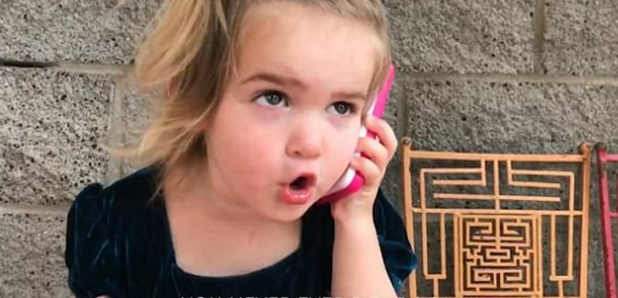 We wouldn't want to be on the other end of that toy phone!
We've all heard the phrase, "They grow up so fast!"
Few embody the sentiment as much as two-year-old Mila, though, who has given her boyfriend a big telling-off on the phone. Well, okay, it's a toy phone and there's – thankfully for her boyfriend – no-one on the other end.
Which is just as well, because little Mila really doesn't hold back. If you ever go to Arizona, where her parents filmed the video, make sure you don't get on the wrong side of this little tyke, because you'll find you're in for a rough ride!
The video has gone viral, perhaps helped by the fact that Mila's Instagram famous mum Katie boasts a whopping 1.1 million followers. The post is flooded with comments from Mila's fans, who think her acting up is the cutest thing ever (we're with you, guys!).
One wrote: "this is super cute", followed by the cry-laughing emoji.
Another took the words right out of our months, referencing the popular cartoon voiced by Alec Baldwin: "I won't mess with you, boss baby."
Someone even said they see an Oscar in Mia's future! Watch this space..
Playing up adorably for the camera, Mila yells into her plastic, pink phone: "This is ridiculous! What are you doing? I saw you. Hey! Why are you mad at me? Don't go to the park with her. I saw you. I'm so sad.
Never, ever, go EVER again! You're nothing! You're not EVER! I'm done with it. I'll call you later."
It then gets worse, as she pauses for a "response" from the boyfriend, who, remember, isn't actually even there! Anyway, this is when mile really explodes. 'You never, never ever talk to me like that," she demands. "Do you hear me?
We hear you, Mila, loud and clear!