Loved-up lady shows the internet why making the first move is worth it
4 August 2018, 13:15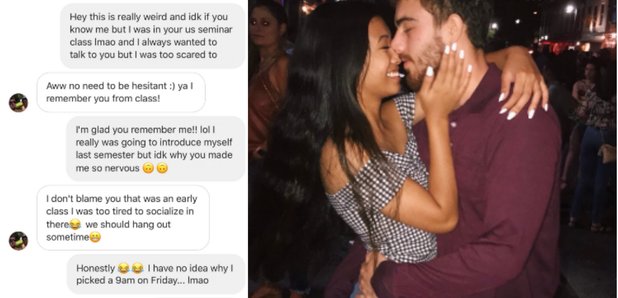 One girl's love story, sparked a whole social media thread...and we're so here for it.
A loved-up lady showed the internet that shooting your best shot CAN pay off in the game of love.
Kelliann recently took to Twitter to share her story on how making the first move on her high school crush and now boyfriend was the 'best decision' she ever made.
Sharing her initial conversation with him, Kelliann revealed she was too nervous to initially approach the guy that she fancied but finally plucked up the courage to talk to him after high school.
I spent a whole semester of freshman year crushing on him till I finally got the balls to make a move and it was the best decision I have ever made #shootyourshot pic.twitter.com/hokUfxubxc

— kelliann (@ayekelliann) August 1, 2018
And the bold move finally paid off with Kelliann finally ending up with her prince charming and crush in the end.
It wasn't long before the tweet went viral, with over 6,000 people retweeting it and 49,000 pressing the like button. Kelliann's tale soon sparked others to join in with their similar experiences of making the first move.
One Twitter user posted: 'You guys are literally us. Wow I'm shook.' before also posting a screenshot of his first conversation with his now girlfriend.
You guys are literally us. Wow I'm shook pic.twitter.com/RXx9DhR9wg

— Andrew (@andrewmeza70) August 2, 2018
Another admirer of Kelliann's love story posted: 'Went to shoot my shot, been together almost 3 years.'
Went to shoot my shot, been together almost 3 years. pic.twitter.com/kRtJAnAYy2

— Mikayla Ziolkowski (@makieziolko) August 2, 2018
Check out some of the stories below.
I had a little crush on this guy from high school, and never saw a chance.

BUT i hit him up the summer prior to my sophomore year in college and we've been inseperable since pic.twitter.com/5JlftVPBkW

— Mikayla (@MikaykayMoore) August 2, 2018
I actually friendzoned him for like 5/6 months and now we're the cutest couple at work (other peoples words—) and then i took a chance, and here we are (last pic is from our first date.) pic.twitter.com/JblCn4Bqi0

— T () (@hentaihavnwaifu) August 2, 2018
*sniff sniff* we're not crying, you are.