Man divides opinion after proposing DURING his sister's wedding
23 August 2018, 17:04 | Updated: 23 October 2018, 13:19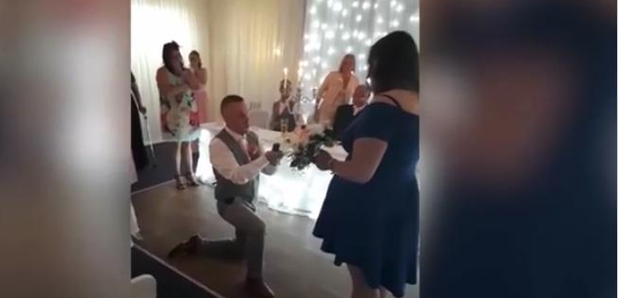 Some might question the timing of his proposal with others claiming he shouldn't take away from his sister's special day.
A man has raised eyebrows after he popped the question to his girlfriend during his own sister's wedding reception.
Antonio Kerr took the opportunity to ask his girlfriend Rebecca Stafford to be his wife during his sister Charlene's wedding, however the bride was in on it all along.
While most brides would be horrified at the thought of being overshadowed on their big day, Charlene was more than willing to lend a helping hand to her brother in the name of love.
In a tear-jerking video online, Charlene can be seen lining up her female guest as if she is about to throw her bouquet, however, things take a sudden twist when Antonio's girlfriend Rebecca is handed the bouquet.
As tradition goes, whoever catches the bouquet is the next to get married, but little did she know she was about to get engaged there and then!
After being pulled out of the crowd, Antonio popped down on one knee proposed to her by which point Rebecca was visibly teary.
According to The Sun, the proposal took a year to plan and they are hoping for a winter wonderland themed wedding.
As for the bride Charlene, she made clear that she was more than happy to share her special day with the newly engaged couple.
She explained: "Some brides wouldn't want the attention to be taken off themselves, but she is so kind and caring and she always puts her family first, I thank her every day for what she did for us. I can't thank her enough."