Meet the women with 19 INCH long finger nails
29 May 2018, 17:05 | Updated: 29 May 2018, 17:19
This vibrant group of women - who call themselves the 'Long Nail Goddesses' - are proud of their impractical talons.
Chipping a nail is annoying at best, but for this group of women who have been growing them for THIRTY years, it's catastrophic.
At Maria Ortiz's nail salon in Newark, New Jersey, a group of women with eye-popping long nails meet regularly to share stories about the pleasures, trials and tribulations of the long nail lifestyle.
Woman come to Zeyne Beauty Salon from all over to get the very best care for their nails, but maintaining such long nails comes at a price. Vanessa, who has been growing her nails for 27 years, said: "I can't even give you a figure.
"If I come every two weeks, that's £75 ($100), so multiply £75 for 12 months. I spend a good piece - that's a mortgage!
"Is it an obsession? Of course. If I break this nail, I'd probably cry! I will cry!"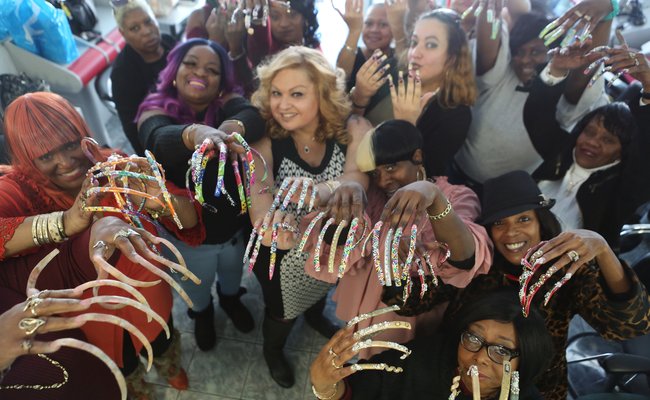 The ladies bonded over their love of long nails and meet up every month for a gossip (Image: Barcroft)
The group was founded when Maria began specialising as a nail technician for women who preferred to have elaborately designed nine-inch nails, instead of nearly trimmed French-manicures.
As her client list (and her own eight inch nails) grew, so did the Long Nail Goddesses group.
Now, the Goddesses meet monthly and Maria charges £75 ($100) for a manicure, which can take her up to seven hours to do.
The 42-year-old said: "We're not aiming for a group with the longest nails, it's just small community, it's a sisterhood.
"Some girls like short nails, some girls like the real nails, some girls like the artificial nails - there's no competition.
"This is like family to me. When it was rough out there and I need someone to talk to, one of y'all was there. and vice versa, there's stuff that's so intimate between us that you don't even share with your partners.
"We're here to stay, whether you like it or not, we're taking over the world. One day at a time."
Maria began growing her nails over 15 years ago after being inspired by her clients' obsession with them. The goddesses draw attention wherever they go with their sparkly talons and it increases tenfold when they're out together.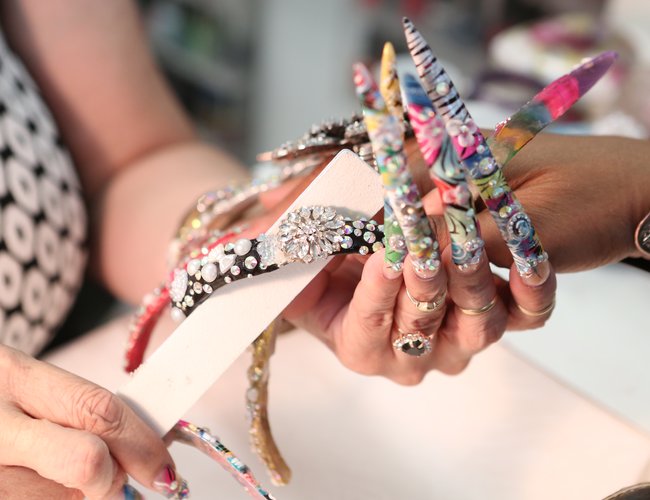 Maria gets busy with a a handful of XL fingernails (Image: Barcroft)
While the women usually love the attention, there are always a few onlookers who overstep the mark.
Maria said: "These are my nails and they're not bothering me - why should it bother you? Long nails are sexy, of course, look at me!
"They don't even know you and they wanna ask you 'how do you wipe your bum' and stuff like that. Tissue, with tissue, I'm tired of saying 'with tissue'."
Fellow Long Nail Goddess Vanessa Scott, whose thumb nails alone are an impressive nine and half inches, added: "How do you clean yourself? How do you cook? How do you drive? How do you put your clothes on? Do you tie your shoes?
"Those are the questions they ask you.
"You have to learn how to work with them, it's just like anything else, you just have to learn how to function.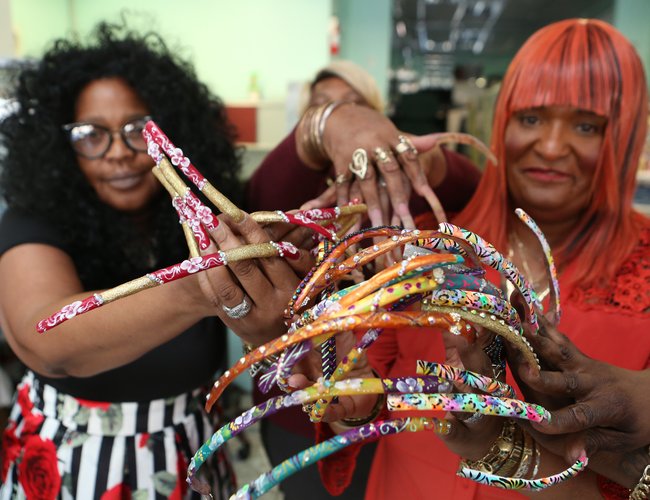 The ladies have spent DECADES growing and caring for their extra long nails (Image: Barcroft)
"Until they put me in the ground, I will continue to have long nails. Whoever doesn't like them, get at the end of the line, cause I'm gonna keep my long nails."
The nails in the group vary in length from a few inches long all the way up to 19 inches.
Proud owner of the group's longest nails, La Rue Drummond said: "I started growing them at the age 13. It's been well over 30, 40 years - probably more - I don't wanna tell you my age!
"If you don't like it, you will learn to, or it's bye bye."
Although some people are turned off by the long nails, Maria says she's met plenty of men who love everything about long talons.
She said: "It is a fetish for some people and those fetish guys, they love them. They love everything from the drumming of the nails to just me holding a cigar or a pen, playing with something, anything.
"Long nails have affected my love life a bit because there are some guys who don't like it, but it comes with me, it's part of my personality.
"If you can't accept me with long nails then I don't want ya!"