This Gown Is The Most Popular Wedding Dress On Instagram Right Now
27 April 2017, 16:34 | Updated: 12 July 2018, 13:59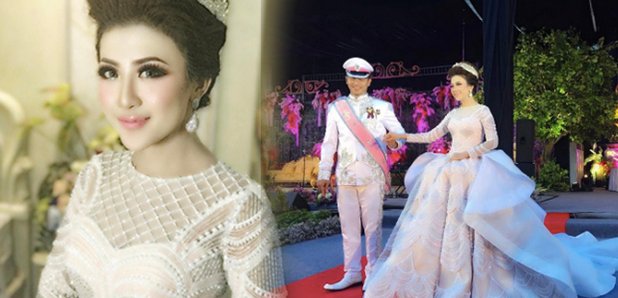 This Indonesian bride has become an internet sensation after photographs of her wedding dressed have become the most liked on Instagram.
Whilst weddings are celebration, all about two people coming together. Whilst the day is all about the bride and the groom on an equal footing, we all know that it's the bride's dress we can't wait to see.
For one blushing bride, her dress has made such an impact on admirers by becoming the most-liked Instagram so far, according to Allure.
Indonesian bride, Intan Azzahra, wore a fairytale gown to her wedding, the day she married her now husband, Zendhy Zaen.
The long-sleeved dress is embellished with thousands of pearls and beads and is designed by Ivan Gunawan.
As if that wasn't enough like the dress of our dreams, the sweetheart bodice is covered in a stunning sheer overlay, allowing the pastel pink colour of the dress to shine through.
The wedding gown featured a silky white train which flowed behind Intan as she walked up the aisle.
Adding her own touch to the bridal-look, Intan wore a beautiful bejewelled tiara and pastel pink nails.
Since she posted the photos of the gown on Instagram, they have collectively received more than 200,000 likes – making Intan's gown one of Instagram's most-loved.
However, it wasn't just the dress that had people green with envy - Intan and Zendhy had a faux castle as a backdrop to the ceremony and an enormous wedding cake.
A girl can dream, right?