'Sprinkle Edible Glitter On Broccoli': Mums Share Bonkers Parenting Tips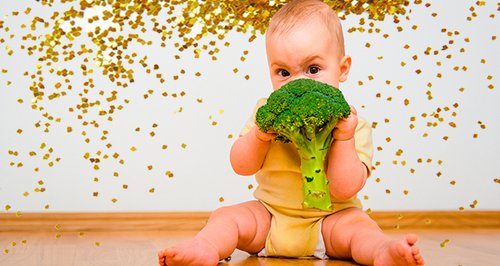 "Sprinkle edible glitter on broccoli"...
Having a baby can be a daunting prospect, especially if it's your first time. That's why is good to seek advice from fellow mums, just to make sure you're being normal!
Mums have taken to sharing their advice on a Mumsnet feed, some of which is useful, some of which is utterly bizarre.


Picture | Mumsnet
The feed began with advice from user SharingMichelle who said:
'Give them music and headphones for long car journeys. Shuts them right up. My eldest is 10 and I've only recently learned this.

Peel the negative space off the sticker sheet and your small child can peel off the stickers independently. Without ripping them. Yes, even cheap stickers. WHY didn't anyone tell me this one??!'
The feed has since gained nearly 300 responses from mums sharing their regret for not know these tips when their kids were younger and offering their own advice, some of which is utterly bonkers.

Picture | Mumsnet
In a comment that makes us wonder what exactly is happening to our children, user 'recall' suggested "edible glitter sprinkled on top of broccoli" in a bid to get children to eat their greens.
Another user, xxjessxx, suggested that parents "wrap their towel around a hot water bottle to keep it nice and warm for when they get out". User Xmasbaby11 kindly pointed out that a hot water bottle is not your typical item when packing for the swim run.


Picture | Mumsnet
Probably the best piece of advice in the feed came from SpaceDinosaur who helpfully said: "NEVER HAND A CHILD AN OPEN FRUBE!!"
We've all been there, right?
Most of the advice on the feed was useful, if not a little unorthodox such as Malteaser77's advice for boys.
She said that placing a ping pong ball in the toilet helps teach boys to toilet-train as it gives them something to aim for. "They have something to aim for!" She added.
Some of the cutest advice came from RickertyTickerty who said: "Stroke a baby's nose from between the eyes to tip to get them to fall asleep. They close their eyes as they follow your finger down"...