These 10 Words On Your Dating Profile Will Help Bag You 'The One'.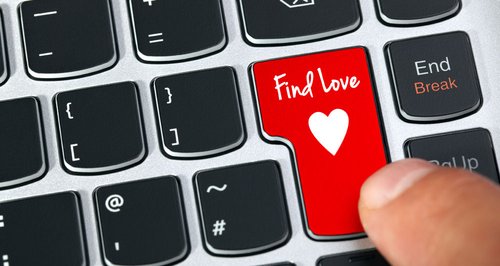 If you want to maximise your potential of meeting Mr or Mrs Right, then you need to rake note of these key phrases!
First impressions don't just apply to real life, it's the golden rule of online dating too.
In real life, a terrible opener whilst chatting someone up in a bar can quickly be redeemed with a little wit and charm. However the world of online dating is not so forgiving, with many making their decision about you in a number of seconds.
With the click of a mouse or the swipe of a finger, potential suitors can dismiss you and find another match at the blink of an eye! So it's important to put your best foot forward.
A new study claims that the language of love used to bag Mr or Mrs Right has changed, and there are a number of new key words that are real turn on for singletons.
According to the survey, men are looking for an 'ambitious' woman, while females are eager to meet an 'intelligent man'.
Men who describe themselves as "physically fit" has soared as 96 percent of men use this on their profile to help get them noticed, while 46 percent of woman opted for the word "perceptive" to give their profile a boost.
Among other top words for males included, 'spontaneous' and 'optimistic' both of which ranked above other qualities such as being 'affectionate' or 'articulate'.
Meanwhile, 'perceptive' was chosen by 33 percent more females while 'hardworking' and 'thoughtful' ranked among other popular choices.
The study found that using certain words in a dating profile has the potential to DOUBLE the number of messages from potential partners.
The study looked at the words used in more than 12,000 profiles to chart changes in what people search for in a potential partner.
The results were as follows:
TOP 10 WORDS USED BY MEN TO GET THEIR DATING PROFILE NOTICED:
1. Physically fit (+96%)
2. Perceptive (+51%)
3. Spontaneous (+45%)
4. Outgoing (+44%)
5. Optimistic (+39%)
6. Intelligent (+35%)
7. Passionate (+32%)
8. Affectionate (+29%)
9. Articulate (+24%)
10. Ambitious (+23%)

TOP 10 WORDS USED BY WOMEN TO GET THEIR DATING PROFILE NOTICED:
1. Ambitious (+48%)
2. Perceptive (+46%)
3. Sweet (+33%)
4. Hard working (+32%)
5. Thoughtful (+28%)
6. Physically fit (+21%)
7. Creative (+19%)
8. Rationale (+19%)
9. Spontaneous (+19%)
10. Energetic (+18%)
We'll definitely be re-writing our profiles this weekend!