There's An Old Beano Comic Worth 20K And You Might Have It!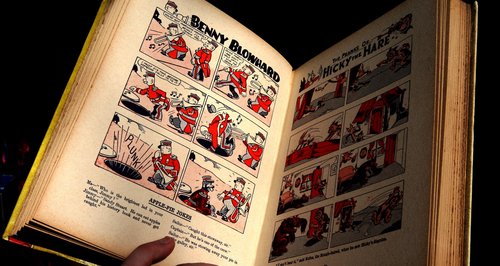 You had better check through your back copies of the old magazine because if you own this particular edition it could be worth a fortune.
Are you a nostalgic hoarder who just can't bear to throw out that stash of Beano comics you've had since forever? You appreciate how much of your pocket money you spent on getting your hands on the latest issue, so instead of binning them, you have a pile of magazines collecting dust in the attic.
Well, it just might be time to get them out again because you could be sitting on a goldmine, with one copy that could be worth almost £20,000.

Picture | PA
They may have been originally bought for twopence (less than 1p of today's money), but last year a 28-page edition of the first ever copy of the Beano comic sold for £17,300 at auction - and the price is going up.
Back in 1999, a copy of the first edition, which came with a free whoopee mask, sold for £6,820 but experts believe the same copy could reach £20,000 today.
Experts at Comic Price Guide explained the value of the comic: "Only a handful of #1's are known to exist and so are very hard to price guide.
"Each time one surfaces, maybe it will impact on the value and cause a decrease. Or there could be a clutch of people out there wanting to own a number one issue and willing to spend money."
Fans of the Beano enjoyed the strips depicting the troubles of Denis the Menace and the Bash Street Kids - which are now very attractive to collectors.
Beano collectors, it may be time to dig out your old magazines - that's if you can part with them!