WATCH: This Adorable Toddler Absolutely Hates This Nursery Rhyme!
9 November 2017, 12:23 | Updated: 7 June 2018, 17:00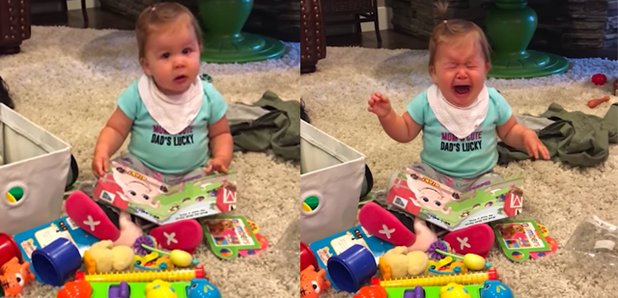 This sweet video shows a toddler getting pretty upset when her mum sings to her!
It's an agreed upon fact that toddlers and children love nursery rhymes.
We sing lullabies and tunes to our little ones from the moment they enter the world, but has it ever crossed our minds that they might not actually like them?!
Sure, we have no way to ask them, but this toddler made her feelings for the famous tune 'Old McDonald Had A Farm' very clear.
This is Edith and she seems less than impressed by her mum Kelsey's singing skills, or is it the choice of song?
Who knows, but either way she is not a happy bunny and every time her mum starts to sing she bursts into tears and doesn't stop until her mum does.
Kelsey leans in to sing to her little one as she is playing with her toys in a super adorable way, but it is certainly not appreciated.
Oh Edith! You'll learn to love nursery rhymes eventually and it's a case of having to as she is about to hit the age where she'll be watching children's TV which is FULL of singing.
But to be honest, the music on kids TV programmes is a lot more annoying for the parents than it is the child, so we think she'll be fine.
What a cutie!