Would You Raise Your Kids In A Naked House? Ben Fogle's Parenting Splits Opinion
19 February 2018, 12:50 | Updated: 7 June 2018, 17:00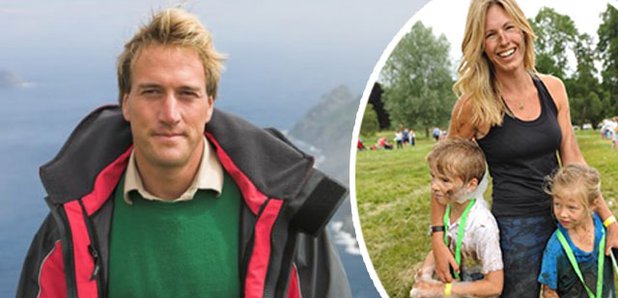 The Countryfile presenter's wife has defended their decision to raise their children in a naked house where they talk openly about sex.
Ben Fogle's wife Marina has split opinion after revealing the couple regularly bathe with their children.
The mum-of-two, who is parent to her 8-year-old son Ludo and daughter Iona, 6, claims she has "never been shy" about the kids seeing her naked and is hoping their relaxed approach to talking about sex will encourage their children to be body confident.
Writing in the Mail on Sunday, she said: "I've never been shy about my body, and Ben and I enjoy piling in to the bath with our children.
"I've never been prudish about them seeing me naked, and they certainly aren't fazed by it. However, as Ludo matures emotionally and physically, I have wondered whether I ought to reconsider our blasé attitude to nudity."
In the lengthy article, Marina also says she's thankful that bath time with her children means they are able to see her the many imperfections on her body which she claims is crucial in "a world of Instagram filters".
She added: "I heave a sigh of relief that my imperfect body – cesarean-scarred and stretch-marked, and with breasts that bear the hallmarks of two well-fed babies – is still serving to give my children a healthy view of what a normal body looks like in a world of Instagram filters."
Marina's little ones might not even be 10-years-old just yet, but she claims that they are very open about conversations surrounding sex in their household and think its "crucial" for parents to talk about the topic with their children as she believes they will respect and admire your bravery in the long run.
Speaking about the time when her children queried how babies are born, she wrote: "I was driving with both children in the car one wet February day and listening to a Radio 4 programme about a story of a baby who developed inside the liver, when Ludo turned to me and asked: 'But how does the seed actually get inside the mummy's tummy?'
Marina claims she didn't hold back from telling her children how babies were made.
She wrote: "Seizing my opportunity, I told them the basic truth: 'When a man and woman love each other,' I began, 'the man puts his penis into the woman's vagina. This makes the man's seed go into the woman which fertilises the egg and makes a baby'.
While the idea of having that conversation with children would make most parents feel uneasy, Marina claims the news didn't come as a shock to her kids and it wasn't long before they were talking about cheese on toast.
Marina concluded: "I've learnt about the role of a parent, the more I've realised that being anything other than honest is a waste of time."
We think she might have a point!
What do you think?