Child Writes Tear Jerking Thank You To London's Hero Emergency Services
16 June 2017, 10:08 | Updated: 7 June 2018, 17:00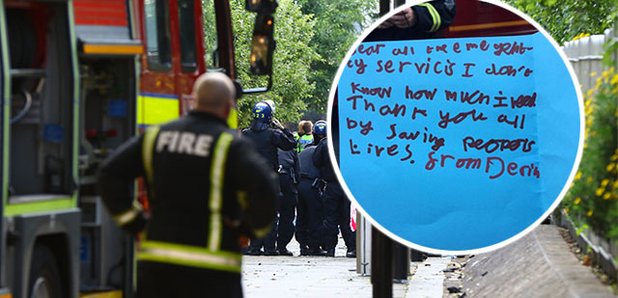 This heart felt message from a young child mirrors the gratitude we all feel towards our emergency services.
Our emergency services have served the public beyond expectation within recent weeks.
Across the tragedies that have spanned May and June including the Manchester terror attack, London Bridge incident and the Grenfell Tower fire the medics, fire brigade and police in attendance have worked tirelessly to save lives.
After this week's Grenfell Tower incident a young child wrote a heartfelt thank you note in their best handwriting for the heroes working at the inferno in West London.
Lovely thank you letter received by crews at #GrenfellTower. The support we have received from all over the world has been overwhelming. pic.twitter.com/gnlPNu8j6t

— London Fire Brigade (@LondonFire) June 15, 2017
The note, written in the most adorable handwriting, reads: "Dear all the emergency services I don't know how much I need. Thank you all by saving people's lives. From Derin".
The heartfelt message was shared on Twitter by the London Fire Brigade who have been battling the blaze at Grenfell Tower since the fire started on early Wednesday morning.
They thanked the outpouring of support from around the globe and said that it has been "overwhelming".
The community spirit and public support in the aftermath of the tragedy has been huge with thousands of donations of clothes, supplies, food and money pouring in from across the country.
Famous Londoners have also been getting stuck in with the effort to support the families who are now without homes.
Jamie Oliver opened his nearby restaurant in Westfield shopping centre to the victims who needed food or shelter and singers Adele and Lily Allen have been down to visit the site of the fire to lend a hand.
Simon Cowell has also announced a charity single to raise money for the victims.