Coleen Rooney has ruled out having more kids after the birth of her fourth son
9 May 2018, 17:27 | Updated: 7 June 2018, 17:00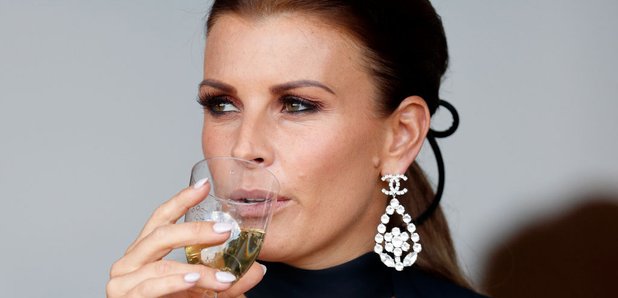 The 32-year-old welcomed baby Cass in February, and has said that he will be her last after a 'decade of being pregnant'.
It was previously reported that the WAG icon had told friends that husband Wayne, 32, was desperate for a little girl to complete their family, but Coleen says he's already lucky to have their four boys, Kai, 8, Kit, 4, Klay, 2, and baby Cass.
She told the Mirror: "I'm done having any more, definitely.
"I have always said I would like three children, so four was pushing it.
"I was never obsessed with having a girl in the first place. It would've been nice but I've got the boys."
Adorably, it seems the Rooneys' older boys love their baby brother, with Coleen claiming they always want to kiss and cuddle him.
She added: "A couple of weeks ago they all had their first bath together, all four of them. There was a lot of cleaning up to do afterwards.
"We have special moments all the time.
"They love the baby, they're constantly kissing him and asking him for cuddles. It's a madhouse, but a good madhouse.
"Going from three to four kids wasn't as big a shock, but going from two to three was.
"The only thing I am finding more difficult is the age gap, because there is less of a gap between Kit and Cass than the others, and Kit is only a baby himself.
"I've got to have ears and eyes everywhere."
Coleen also touched upon how she and Wayne have worked to salvage their marriage after Wayne was caught up in a drink driving scandal with a woman he picked up in a bar during a lads' night out.
Wayne's involvement with 29-year-old Laura Simpson - who says they had a "kiss and a cuddle" in her VW Beetle - saw him banished from the family home, but Coleen hinted that things are improving with time.
She added: "I want to try and continue our marriage and live as a family. I'm not saying everything is fine and forgotten about, but we're as good as can be at this point.
"We'll have date nights, we go to the cinema, it will depend on what we've got on throughout the week.
"I've got a good support network around me, so we do get time to ourselves.
"And Wayne's really good with the kids. He's good at getting them all to bed as well, he's really good with the bedtime routine."
The couple have been together since they were just teenagers after meeting at school, but Wayne has been caught up in a series of very public - and hurtful - scenarios.
In 2010 escorts Jennifer Thompson and Helen Wood publicly apologised to Coleen and claimed they had slept with him the year before when she was pregnant with Kai.
This year Coleen and Wayne will leave their £5million mansion for a fresh start in a £20million custom built home complete with stables, bar, orangery and underground parking for the Manchester United star's fleet of posh cars.