Dad Dresses His Baby Daughter But Forgets One Little Thing...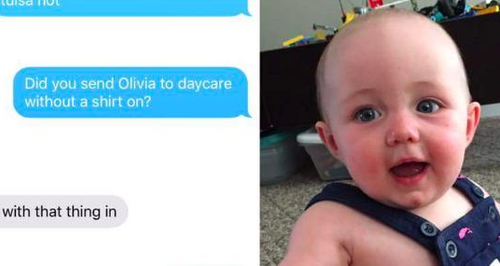 You know that niggling feeling, when something's just not quite right...
We all know how it is in the mornings... you're rushing to get the kids ready for school and simultaneously throw a smoothie down your throat, all whilst trying not to trip over the dog in order to get out the door.
So it's fairly understandable when the small matter of getting your daughter correctly dressed for nursery falls, ehem, somewhat by the wayside.
That's exactly what happened to hands-on-dad Jeremy when he tried to get baby Olivia ready for school... and forgot one crucial thing.
See the post below:
Dadding lvl100
Paratroop73 wrote, "Wife was out of town and I took my daughter to daycare with her dress on backwards..on picture day."
However, other parents were quick to console the confused father, adding comments like:
"But I sent my son to kindergarten in his pyjamas. Twice."
"My husband's name is Jeremy and I can foresee this happening when we reproduce."
And "Yep. My husband thinks tights is the same as trousers."
Seems like it's all in good faith then.