Dad writes a hilariously honest CV for his daughter
21 August 2018, 11:50 | Updated: 21 August 2018, 13:54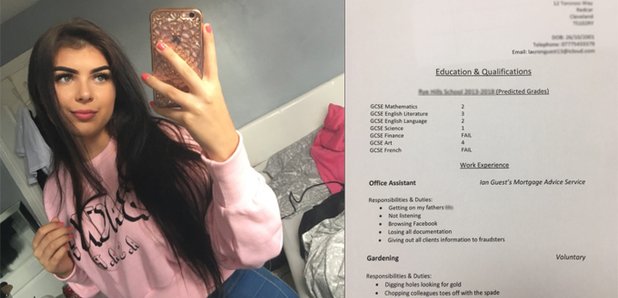 One dad took the opportunity to let employers know what his daughter is really like with this brutally honest version of her resumé.
With GSCE results day just a round the corner, teenagers across the country are prepping their CV's in hopes of landing jobs or apprenticeships as they get ready to face the world after secondary school.
However, 16-year-old Lauren Guest from Redcar, Middlesbrough, was left shocked when she found out she'd been stitched up by her own father who was supposed to help write her a glittering resume.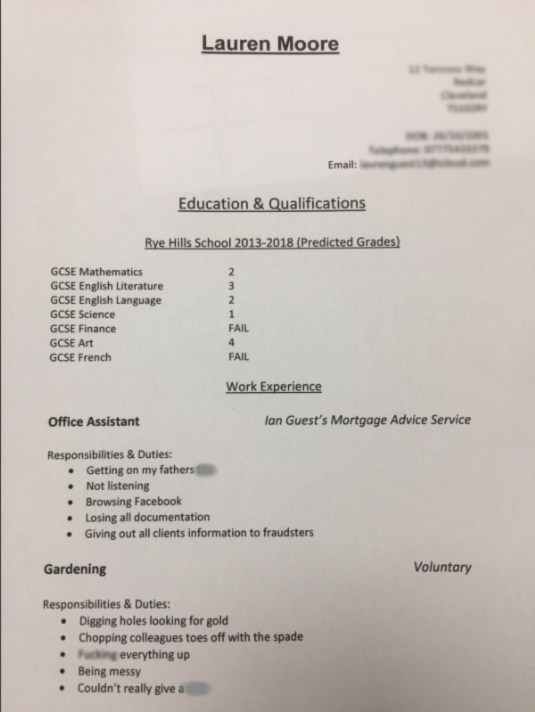 Credit: Twitter/Lauren_Guest123
Under her responsibilities and duties section for her work experience he listed skills such as "getting on my father's t**s," "browsing Facebook" and "losing all documentation".
He also hailed her skills as being "lazy", "ignorant" and "rude" before describing her as a "typical 16-year-old" who "doesn't do mornings".
Luckily, Lauren saw the funny side and took to Twitter to share a hilarious image of her CV, with the caption: "Remind me not to let my dad do my cv for me."
Remind me not to let my dad do my cv for me pic.twitter.com/rFFdoRgHxZ

— Lauren guest (@lauren_guest123) August 20, 2018
Turns out Lauren's pals saw the funny side too, as they replied:
Loooooooool, is there any need?!

— (@Tree_WBAFC) August 20, 2018
This is so funny giving out all clients information to fraudsters LMAOOOOOO

— abbi (@abbixstannard) August 20, 2018