Dad's very cheeky hack to get his daughter to sleep goes viral
1 June 2018, 16:10 | Updated: 7 June 2018, 17:00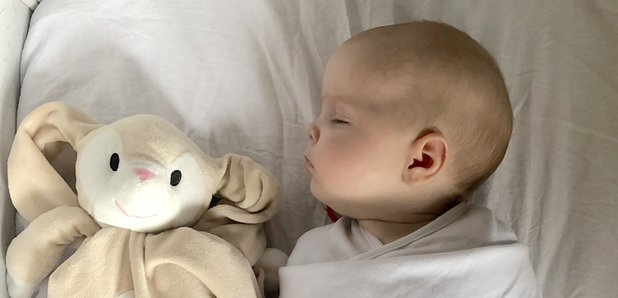 Aussie blogger Laura Bentley couldn't believe how her husband got their 10-week-old baby, Lucie, to nod off.
The mum-of-four, from the Gold Coast, Queensland, left the internet in hysterics with a viral image of her youngest daughter slumbering soundly next to the pink plastic vibrator.
But the 33-year-old admitted she has since been flooded with messages from other sleep-deprived new mums desperate to try the trick for themselves.
Laura, who has her own business with husband Brad, 34, alongside running Instagram blog Attempting to Mum, said: "Lucie is baby number four so we are used to it by now, but she does not do very well at day sleeps.
"We've found to put her down, we have to literally stand behind her rocking the bassinet to replicate the movement of the car.
"On Monday, I was at the gym and Brad got done with spending 20 minutes rocking the bassinet, so he decided force the process and thought 'what can I use to make the vibrations'.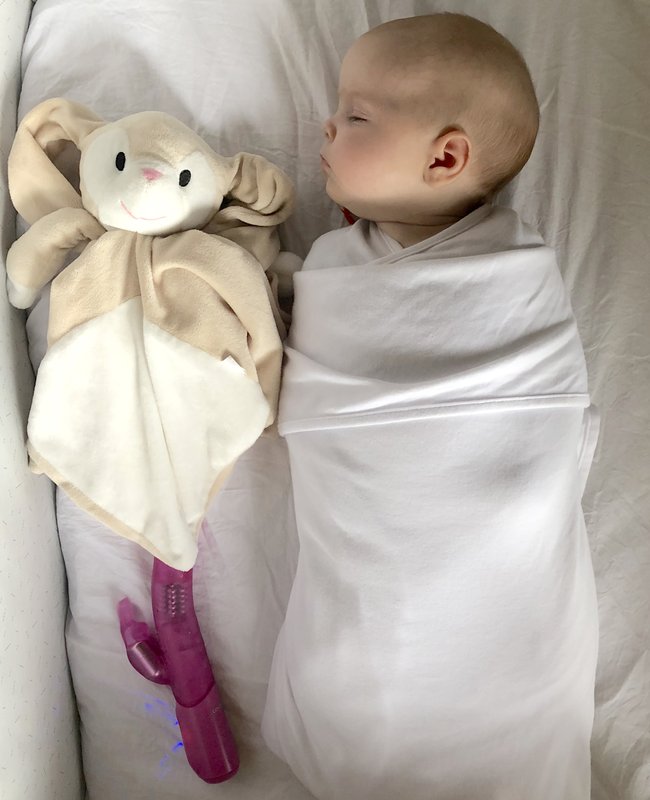 Laura's husband used a sex toy to keep their baby's cot rocking and send her to sleep (Image: Caters)
"He had to go digging for it, I had no idea where it was because we've just had a baby!
"I came home, and he just said 'I used the vibrator to get the baby to sleep'.
"The thing is, it sent her to sleep straight away! It's amazing and works so well.
"It's now more inconspicuously hidden in the bassinet, but we're still using it." Laura, who is also mum to Will, 10, four-year-old Indie and Zahli, two, said she was momentarily concerned keyboard warriors wouldn't see the funny side of her post.
Mummy blogger Laura and her four kids, including baby Lucie (Image: Caters)
But the blogger, who has 10,000 Instagram followers, said other parenting blogs also credit vibrators with helping keep their little ones slumbering soundly.
Laura, who gave birth to Lucie on March 19, added: "When I first posted the picture I was petrified people wouldn't see the funny, humourous side, that the fact it works is so funny.
"But so many people have been agreeing with me – the reaction has been amazing.
"There have been a few negative Nancys out there, but mostly it's been completely positive.
"When you have a child, you will literally do everything you can to get them to sleep.
"Afterwards Brad spent some time Googling vibrating motors so we could come up with another similar method, which wasn't a sex toy.
"But other parenting blogs suggest it as well, and it's even in an episode of Sex and the City.
"I wasn't trying to offend anybody, and my followers are aware of my sense of humour and that I'm very light-hearted and sarcastic."