Danielle Lloyd will undergo illegal embryo treatment to have a baby girl
25 June 2018, 12:47 | Updated: 25 June 2018, 15:14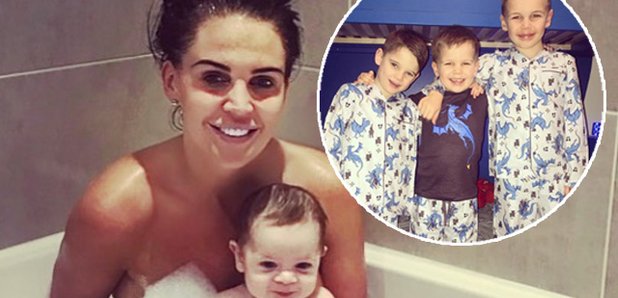 Former Miss England model has revealed she will be flying aboard for the illegal treatment as she is so desperate for a little girl.
Danielle Lloyd has confirmed she is going ahead with her decision to opt for gender selection when she has her fifth child.
The model, who has three sons with ex-husband Jamie O'Hara and another son with current partner Michael O'Neill, will fly to Cyprus where the controversial treatment is currently legal.
Speaking to OK! magazine she said: "We want to do gender selection. I've been honest about the fact that I'd really like a little girl.
"I would regret it if I got to 50 and didn't have a daughter, and I don't want to have any regrets, so I'm going to do it."
Danielle had some speculating she may already be pregnant with her fifth child after she was recently pictured with a pregnancy test, however she said it was a false alarm.
She added: "We did think I was pregnant but I have polycystic ovaries and then endometriosis when I'm ovulating, which makes me swell up so I look and feel like I'm pregnant."
Last year, Danielle defended her decision to undergo the embryo selection treatment arguing it would complete her family.
She told a UK radio station: "It's always been my dream to have a little girl. It's about having that mix and bringing up a little girl.
"I know she might not be 'girlie' – she probably won't be with four brothers – but it's just about having a little mini-me almost.
"I could continue to have babies and hope I'd have a girl but I want to be realistic. I've got four boys at the moment and they are a handful."
Danielle also vented her fustration at parents who don't admit to having the procedure done and insists she's had widespread support from fans.
Danielle added she gets frustrated that more people refuse to admit to having the procedure, explaining: "A lot of people are doing it but they keep it quiet, and that is what is so frustrating for me."
nbsp;