Heartwarming video shows girl, 4, celebrating the end of her chemotherapy treatment
14 June 2018, 15:51 | Updated: 14 June 2018, 15:53
A brave leukaemia survivor marks the end of gruelling cancer treatment in front of her delighted parents and nurses in the cute clip.
Avalynn Luciano is serenaded by hospital staff in St. Petersburg, Florida after completing a course of chemotherapy.
She underwent two-and-a-half years of chemotherapy for leukaemia and spent over 40 nights in the hospital during her illness.
She not only endured hundreds of chemo doses but also had 36 blood transfusions, horrible nausea and had to relearn how to walk.
After getting the all clear, the hospital staff and nurses came together to give the brave girl a warm send off as she finally puts a tough chapter of her life behind her.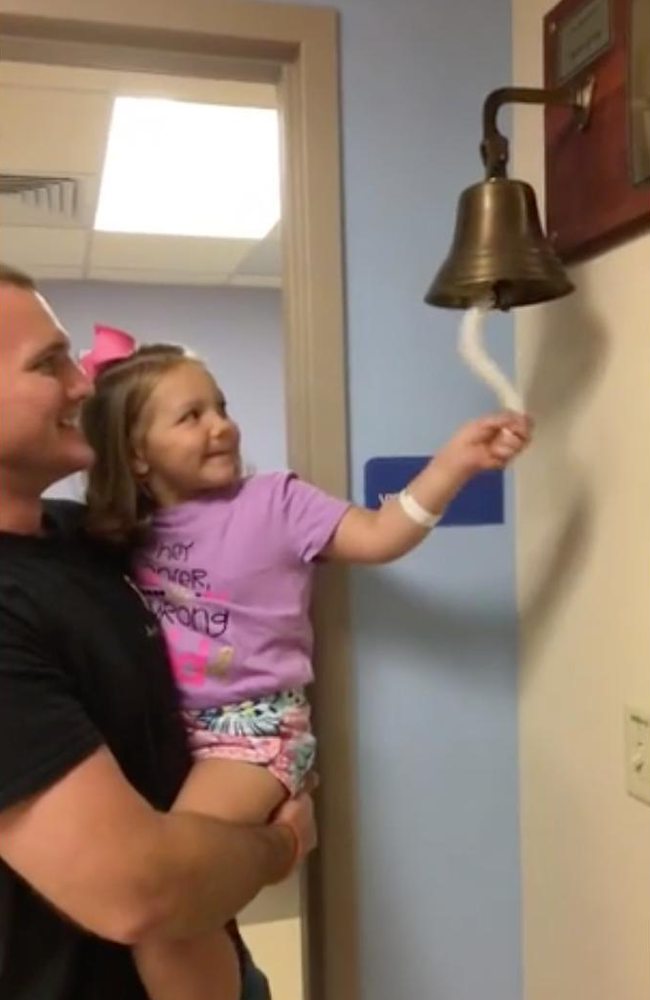 The little girl gives the bell a good strong ring to mark the end of her treatment (Image: Jukin)
The hospital staff in put together a song to mark the end of the four-year-old's chemo and show her how happy they are that it's all over.
Watched by Ava, her sister Alivia and their parents Dustin and Alyssa, they sang: "The chemo's done and it won't be coming back.
"Hey now, hey now - the chemo's done. We'll have to find another to wear our chemo gowns for.
"Hey now, hey now - the chemo's done. Hey no drugs to make you icky, you won't be feeling sicky.
"The chemo's done and we are so excited for you. Hey now, hey now - the chemo's done."
The beautiful child then powerfully rings the bell to symbolically mark the end of her chemo before she is given a card, certificate and a number of presents from the emotional hospital staff.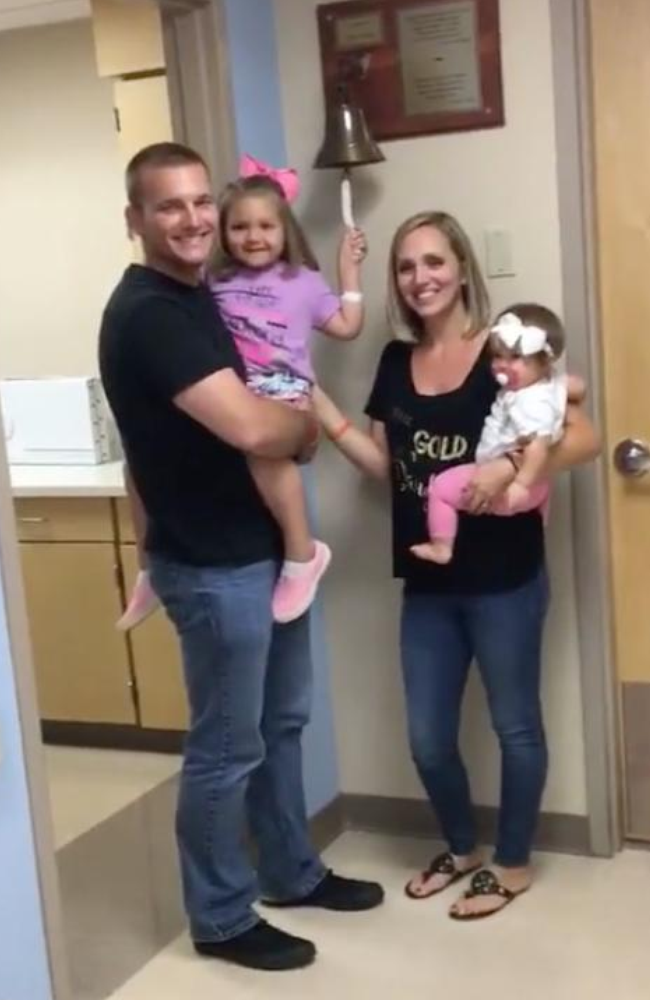 The family can't hide their delight after little Ava gets the all clear (Image: Jukin)
The family then stand for a photo together next to the symbolic bell, which will forever act as a reminder for how strong they have been during the hardest of times.
This marks the end of the video which not only shows a young girl and her family showing strength and resilience through adversity but also acts as a prime example of the amazing work and selfless nature of nurses and hospital staff around the world.