Parents claim £75 aromatherapy lamp gets babies to nod off in seconds
28 August 2018, 13:31 | Updated: 28 August 2018, 16:00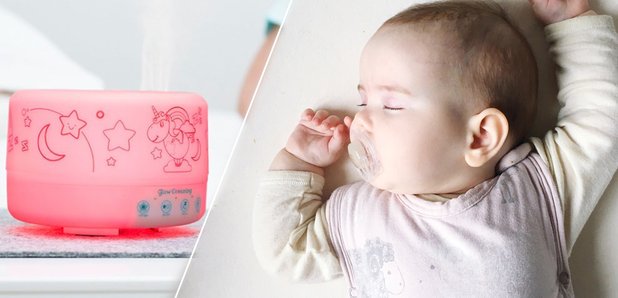 The glow in the dark night lamp has been hailed a god-send by parents whose babies are unable to settle at night time.
Attempting to get your baby settled into bed at night can be a torturous task for parents, especially when they refuse to go to sleep.
However, parents are now claiming an aromatherapy lamp can send your little one to sleep in seconds with just the push of a button.
The combination of soothing coloured lights and claims aromatherapy scents from the Glow Dreaming lamp is being applauded by stressed out parents who have been left exhausted by their bedtime routine.
Creator Cara Benau said she first thought up the ingenious product when she own daughter was having trouble sleeping.
She claims her daughter had suffered the pain of losing a family member, and became anxious at bedtime over fear of not waking up.
After trialling sleep school and a number of other remedies, Cara and her husband began experimenting with other soothing forms of lighting and scent until they came up with their winning combination.
Dr Stephane Pigeon then helped to develop sounds reminiscent of rain, thunder and waterfalls which have all been carefully curated to help aid sleeping.
What's more, the lamp even uses the same light therapy used by NASA, claiming its "red spectrum light" helps "stimulate the body's production of melatonin" which is "the hormone responsible for telling us it's time for sleep."
Taking to Facebook to sing its praises, one mum said her 19-month-old son "never had a solid block of sleep" in his life" until she purchased a Glow Dreaming lamp.
Describing how he used to wake up "at least 4 to 6 times" a night, the mum said that he has been sleeping solidly for "6.5 hours!" since purchasing the product.
While another mum said her baby now falls asleep in her cot without fighting or crying, after having to religiously rock her to sleep.
The lamp doesn't come cheap though as its priced at £75, but it sounds like its worth every penny.