GMB's Laura Tobin creates first premature baby cards inspired by her daughter
19 July 2018, 12:49 | Updated: 19 July 2018, 14:20
The presenter realised their were no cards sensitive enough for mothers who had just given birth to premature children.
Good Morning Britain presenter Laura Tobin has helped greeting card company Hallmark and baby charity, Bliss, create a special range of cards for premature newborns.
The weather presenter explained the hardships her family felt in showing their support when her newborn was submitted to neonatal care, as there are a lack of sensitively worded cards in the shops.
She explained: "Our baby Charlotte was born extremely premature, three months early, and it was a very stressful time. Friends and family want to offer support but it's hard to know what to say and do, especially as we were in hospital with Charlotte every day. "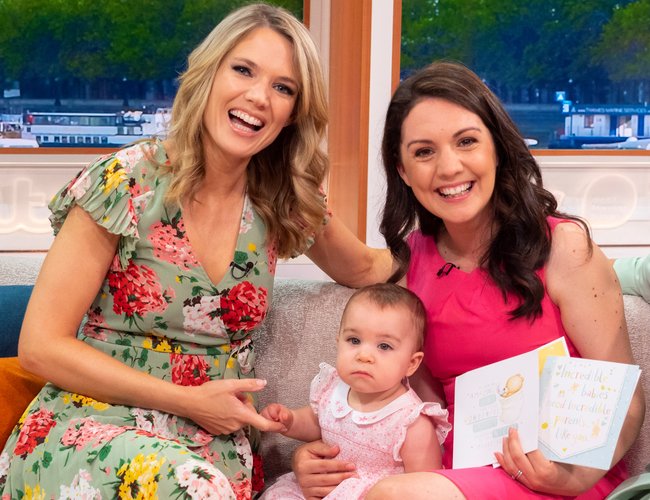 Laura with baby Charlotte on the Good Morning Britain sofa | Picture: Rex
"Sending a traditional baby card with a baby on, or cute images, may be upsetting to parents of premature babies as it reminds them of what they are missing out on - a baby at home. Also cards like 'thinking of you', could imply the worst. Quite a few people sent blank cards with personal messages inside as they wanted to let us know they were thinking of us."
Laura sat down with a focus group of parents who also had premature children which was organised by GMB and local hospital charity Bibs (Babies in Buscot Support).
They sat down with writers from Hallmark and explained each step of a premature baby's journey through neonatal care. From there, they developed four different card designs with 20p from each sale being donated to leading premature baby charity, Bliss.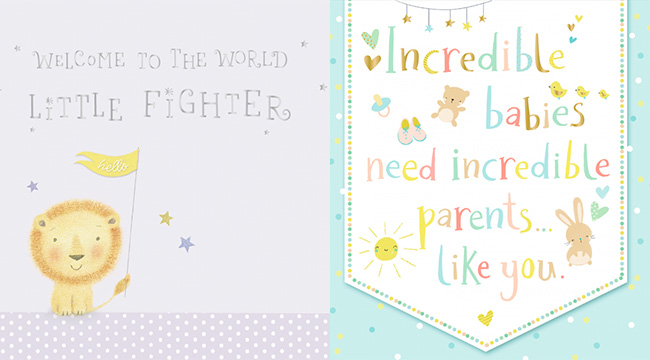 Two of the cards from the new Hallmark range | Picture: Hallmark
Caroline Lee-Davey, Chief Executive of Bliss, said: "Having a baby on the neonatal unit is an incredibly stressful experience for parents, and friends and family are often unsure about how to offer support or even what to say at this time. These tailor-made cards are perfect for many of those situations, and will help parents to feel they are not alone."
The cards are available to buy on Amazon, in selected Tesco and Morrisons stores as well as some card and gift shops across the country from July 23rd.