You can now hire a stranger to change your baby's nappy for £5
17 April 2018, 11:04 | Updated: 7 June 2018, 17:00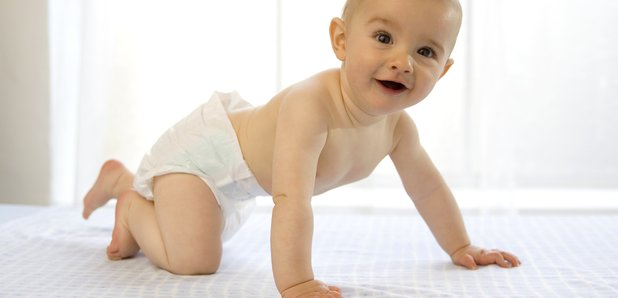 It began as an April fools joke, but now the nappy changing service have really decided to launch it.
Changing nappies is far from the most glamourous job in the world, but like most parental skills, it has to be done. Until now, that is.
A new service lets parents pay £5 a time to change their baby's dirty nappy.
British-based company childcare.co.uk started the service as an April fools joke, but after getting their page flooded with comments from busy parents, they decided to launch it for real.
Getty
The service hopes to have Nappy 999 responders "on-site within 10 minutes", anywhere in the UK.
Since launching the service, they have signed up 50 nappy changers in Bath and Somerset, and 70 in London.
Co-founder of Childcare.co.uk, Richard Conway, said: "Ask any parent which job they hate doing the most, and we guarantee nappy changing is top of the list!
"We knew we wanted to do something to mark April Fool's Day this year and do something that is quite obviously a joke but also fun, but we never anticipated it would take off quite like this, who would have thought that nappy changing is a genuine service that's in demand?"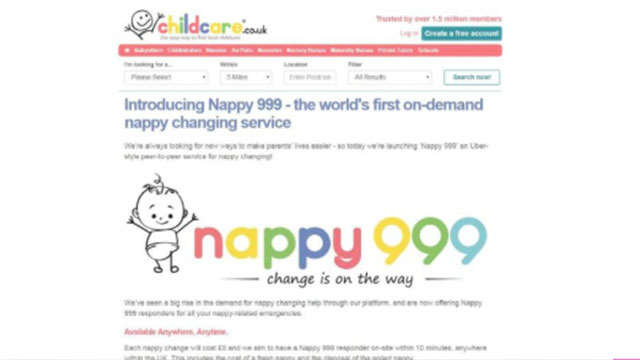 childcare.co.uk
He continued: "We've already had more than 100 providers sign-up, but we're quite a way away from having a Nappy 999 First Responder within 10 minutes of every household in the UK, and that's why we need even more people to get involved!"
All parents will be relieved to know that their babies will be capable hands as not just anyone can sign up for the role. All Nappy 999 changers have at least one year of childcare experience, and an enhanced DBS check.
However, considering babies need their nappies changed up to 12 times a day, this nifty service could cost you quite a bit!
Watch more: