How to have an action packed day of fun in your own front room
16 October 2018, 16:56 | Updated: 31 October 2018, 10:36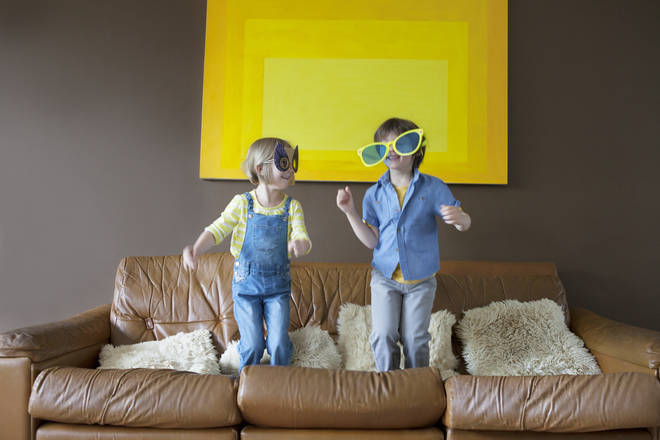 Promoted by Kingsmill
It's getting cold outside and the kids need entertaining right? Look no further than your own living room for inspiration.
Kids seem to always find a way to entertain themselves when out in the garden but as soon things start to get chillier and they're confined to the house inspiration is often lacking.
Keep the boredom at bay with these creative ideas to keep the kids amused in the comfort of your own living room.
Do some indoor camping

Stay cosy indoors with a living room den!

Picture: Getty

When the temperature drops outside there's nothing better than feeling cosy and warm!

Get all the blankets out and challenge the kids to make an indoor den or tent using the living room furniture and some blankets and sheets.

While they're hard at work building in the living room get to work making some wet weather snacks!

Toasties, sandwiches and s'mores are the perfect rainy day treats to eat while staying cosy in your indoor fort.

Have a paper plane competition

Wannabe pilots will love this plane themed activity!

Picture: Getty

Challenge your kids creative side by setting them the task of creating the best paper plane!

Get the scrap paper, pens and anything else the craft cupboard is hiding out and make your very own paper plane tournament in the living room.

Marks awarded for height, length of flight and of course appearance! You'll be finding them down the back of the sofa for weeks after but it's definitely worth it.

Bottle bowling

Re-use your bottles before recycling with this fun game.

Picture: Getty

Rummage through the recycling for empty plastic bottles and make your own ten pin bowling lane in the front room.

Using the empty bottles, line them up like they would be at a bowling alley and then find your own makeshift 'bowling ball'.

This can be a toy ball or screwed up piece of paper - anything goes as long as it's sturdy enough to knock the bottles over!

Nominate someone to keep score and there you have it...your own living room bowling alley!

Cardboard marble run

All you need is some cardboard and some marbles!

Picture: Getty

You'll need to rummage through the recycling again for this one, but this time in the pursuit of cardboard!

Scavenge all the cardboard tubes and boxes you can find and set the kids to task making the ultimate marble run. They'll be absorbed for hours assembling the perfect structure and when they've finished they can get stuck in decorating it with coloured pens while you kick back and relax.

Who ever needed an iPad when a literal cardboard box can keep you this entertained.

Biscuit decorating

The best part of decorating biscuits? You get to eat them after!

Picture: Getty

If paper planes and marble runs are too high energy or you don't have a lot of space to spare indoors there is always baking!

And for these sweet creations you don't even need to cook anything.

Be prepared for a rainy day by keeping some plain biscuits or cookies from the shop and some coloured icing tubes in the cupboard.

While you get on with the housework the kids can put their concentration and creativity to the test and sit and decorate biscuits.

You'll be surprised how into it they get plus, you can always do your best Paul Hollywood impression and judge them at the end!