Justin Timberlake Proves Being A Dad Comes Before Being A Superstar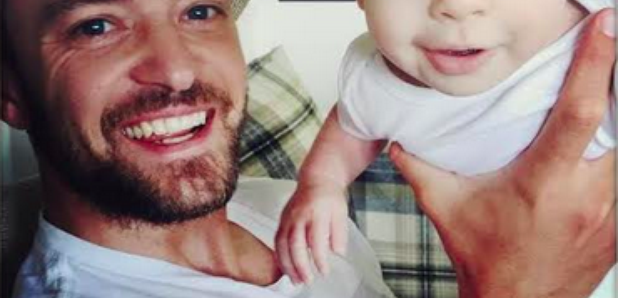 'I love you, and go to bed': Justin Timberlake sends sweet message to son Silas
The singer and actor continued his winning career streak as he picked up not one but two awards last night!
The first for 'Favourite Male Artist' and the other for 'Favourite Song' for his smash hit 'Can't Stop the Feeling' (which still makes us get up and dance every time we hear it!)
However, the 35-year-old proved that despite being a huge megastar it's still family that come first for him and his beautiful actress wife Jessica Biel.
In his acceptance speech he thanked his other half and also told their 21-month-old son, Silas, to go to bed!
The hit maker joked around in his acceptance speech:
"To my two favorite people in the world, my wife and my beautiful son, who may or may not be watching right now," the 35-year-old artist concluded. "If you are, buddy...the nanny's fired. I love you and go to bed, and you're the reason I wrote this song."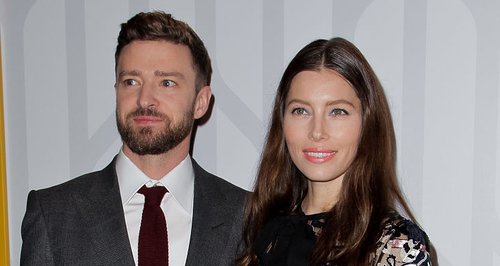 Other things you might have missed:
Blake Lively tells fans to back off from husband Ryan Reynolds!
The 29-year-old actress picked up an award for Favourite Dramatic Movie Actress, and she gave a kick ass speech about girl power. And to lighten the mood, she ended her speech with a warning to fans of her husband: "And thank you to my husband. You can't have him, he's mine!"
Watch @blakelively accept the award for "Favorite Dramatic Movie Actress" #PCAs pic.twitter.com/FAQvOe134k

— People's Choice (@peopleschoice) January 19, 2017
To be honest Blake, if we were married to Ryan Reynolds we'd probably has this put on a t-shirt.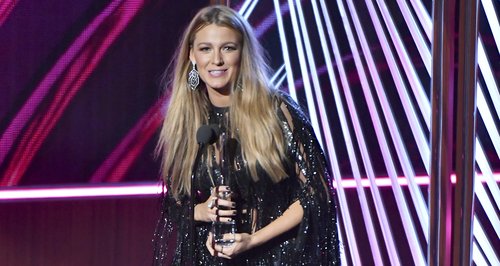 Ellen Degeneres spoke about mashed potato in her acceptance speech
The 58-year-old comedian may have made history as she picked up three gongs at the 2017 People's Choice Awards, bringing her total up to 20, but she still made the audience laugh by talking about mashed potato in her acceptance speech.
A new record! Watch @jtimberlake congratulate @TheEllenShow
for winning the most #PCAs in history! pic.twitter.com/2oEvD6mDxn

— People's Choice (@peopleschoice) January 19, 2017
As Justin Timberlake presented Ellen with her award, she made a speech in typical Ellen humour:
"Wow, thank you very very much and Justin, you are very underdressed. You know I was driving here tonight on the 101, filled with people; I got here like seconds before it started and I was thinking, I love mashed potatoes. Don't you love mashed potatoes? I should have them more often, especially when they're creamy and have no lumps in them."
Lol, alright Ellen!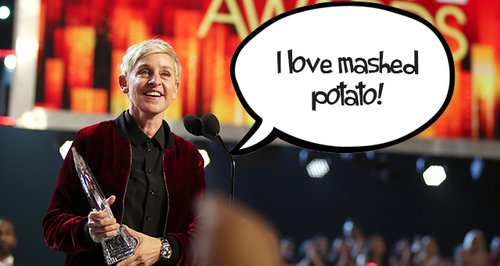 Abridged list of winner's at the 2017 People's Choice Awards:
Favourite Movie - 'Finding Dory'
Favourite Movie Actor - Ryan Reynolds
Favourite Movie Actress - Jennifer Lawrence
Favourite Comedic Movie - 'Bad Moms'
Favourite Comedic Movie Actor - Kevin Hart
Favourite Comedic Movie Actress - Melissa McCarthy
Favourite Movie Icon - Johnny Depp
Favourite Network TV Comedy - 'The Big Bang Theory'
Favourite Comedic TV Actress - Sofia Vergara
Favourite TV Crime Drama Actress - Jennifer Lopez
Favourite Premium Series Actor - Dwayne 'The Rock' Johnson
Favourite Premium Series Actress - Sarah Jessica Parker
Favourite Daytime TV Host - Ellen DeGeneres
Favourite Actor in a New TV Series - Matt LeBlanc
Favourite Actress in a New TV Series - Kristen Bell
Favourite Male Artist - Justin Timberlake
Favourite Female Artist - Britney Spears
Favourite Group - Fifth Harmony
Favourite Breakout Artist - Niall Horan
Favourite Country Male Artist - Blake Shelton
Favourite Country Female Artist - Carrie Underwood
Favourite Album - 'If I'm Honest', Blake Shelton
Favourite Song - 'Can't Stop the Feeling', Justin Timberlake