Katie Piper Shows Fans What A REAL Post-Pregnancy Body Looks Like
12 January 2018, 17:40 | Updated: 19 October 2018, 13:03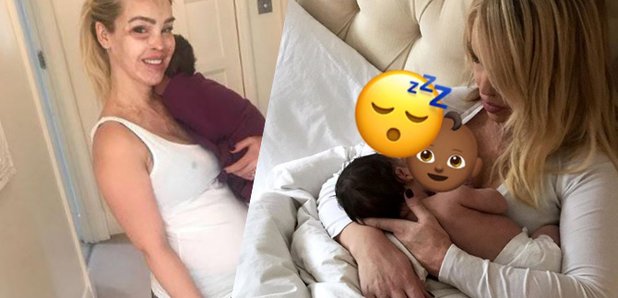 The TV personality has garnered support from her fans after posting an inspiring photo.
Katie Piper won over her fans after giving a real insight into life post-pregancy.
The TV personality recently welcomed her second child with husband Richard Sutton and took to Instagram to shed light on her body journey.
In a bid to do away with unrealistic images of mother's who 'snap back' to their original body just weeks after giving birth, Katie opted to share an honest photo.
The mum-of-two posed in a slim fitting vest and pyjama bottoms in order for fans to see her figure after having baby daughter Penelope Diane.
The former model, who is already a mother to daughter Belle, said: "I posted a throwback picture of me yesterday in one of my favourite floral dresses from @wantthattrend and lots of you commented on what you thought was my post baby body and asked how have I've lost so much weight.
"I wanted to let you know well I haven't and it was an old picture!"
"This is me today, healthy, tired but very happy!!"
"I'm not dieting at the moment as I am breast feeding.
"We are faced with so many images each day on Instagram, some good some bad, and I want my page to be a profile that is enjoyed by lots of different people from all walks of life in a positive way.
"So this is me and has been since I gave birth and probably will be for while - elasticated PJ bottoms in the daytime."
The postive image was well recieved by fans, with one mum writing: "There's so much pressure on us to lose weight so I say rock the pjs!"
While another said: "Amazing words from an amazing lady. Another commented "Looking beautiful and happy".
The new additon to katie's family will come as a joy to the TV star, who once feared she would not be able to have kids due to the medication she took to recover from the acid attack that left her face permanently scarred.