Kirstie Allsopp claims she 'smashed' her kids' iPads as punishment
11 September 2018, 11:42 | Updated: 11 September 2018, 12:53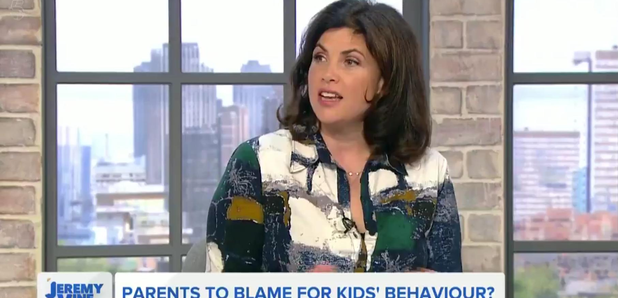 The TV presenter has divided opinion after revealing she broke her children's iPads to stop them playing Fornite.
Parents have blasted Kirstie Allsopp as "old fashioned and privileged" after she revealed the drastic measures she took to curb her two son's addiction to video games.
The Location, Location, Location, host has received widespread criticism after claiming that she destroyed her kids' tech as a way of stopping them from playing Fortnite.
iPads retail from £170, and the backlash she has received - people have blasted her for being "privileged" for casually destroying a luxury item - has forced her to leave Twitter.
During an appearance on Jeremy Vine, Kirsty said: "This is the first time I've said this publicly.
"In June I smashed my kids' iPads, not in a violent way. I actually banged them on the table leg.
There is a game called Fortnite and another called PUBG and I decided... we had made all sorts of rules and all sorts of times when we said you can't play them and all those rules got broken and in the end I said: 'Right that is it, I have to physically [break them]'."
Kirstie Allsopp reveals she smashed her children's tablets in front of them because they kept breaking her rules for using them. @JeremyVineOn5 | @KirstieMAllsopp | @TheJeremyVine | @stormhuntley | #JeremyVine pic.twitter.com/CaKZ52uGFj

— Channel 5 (@channel5_tv) September 10, 2018
She then added: "I didn't intend to speak about it but it's come up now." When fellow guest Hardeep Singh Koli asked if her children knew about it, she said: "They saw me do it."
The comments came during a discussion as to whether parents are to blame for their children's behaviour.
While, some parents praised her tough stance, others weren't so impressed claiming her actions were wasteful.
Everything in this benighted land comes down to class - and for our property-porn queen the Honourable Kirstie Allsopp the price of an iPad is so trivial and incidental they can be smashed and replaced to make a point. https://t.co/9XAQZA1kFY

— Roger McCarthy (@RF_McCarthy) September 10, 2018
I take it Kirstie Allsopp (who smash her kids iPads) doesn't plan on teaching her kids to value what they have & look after it as they are fortunate to have nice things in life while others don't even have food, water or a home. Great parenting Kirstie.

— Alexander L. King‍ (@1101LittleOne) September 11, 2018
All for disciplining children and laying down ground rules....but smashing up expensive items that a child with poorer parents would have been thrilled with? These rich, over-paid famous people really do live on another planet. https://t.co/F8sjWVfwth

— Shar A (@Shar_A_) September 10, 2018
Kirstie alsopp Just makes me think of being old fashioned and being privileged. She can do whatever. We can do whatever.

— V. Cadaverini (@East_) September 10, 2018
Kirsty attempted to defend her actions but later shut down her Twitter account completely following backlash from trolls.