Do you know how much sugar is in your child's yoghurt?
20 September 2018, 11:26 | Updated: 20 September 2018, 12:30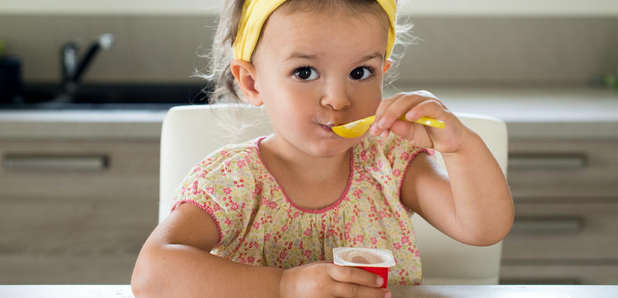 Some children's yoghurts could contain half of their recommended daily sugar intake.
A new study has revealed that many yoghurts aimed at children contain 'well above' a healthy amount of sugar.
It was found that only 2% of kids' yoghurts are able to bear the 'green traffic light' emblem with regards to low sugar content, meaning the remaining 98% were labelled with amber or red colours.
For any food product to be deemed as 'low in sugar', it has to contain less than 5g per 100g.
The shock information comes from the researchers from the University of Leeds and University of Surrey, who looked into the ingredients of 921 yoghurts sold across all supermarkets.
They discovered that, typically, kids' yoghurts held around 10.8g per 100g - which works out to be around two sugar cubes.
According to the NHS, children between the ages of 4-6 should only consume 19g of sugar (the equivalent of five sugar cubes) a day.
Those aged between 7-10 should aim to consume less than 24g per day.
A spokesperson for the research team said: "We conclude not all yoghurts are as healthy as perhaps consumers perceive them and reformulation for the reduction of free sugars is warranted."
With yoghurts being a popular snack for youngsters, experts are warning to keep an eye out for hefty sugar contents in each serving.
WATCH! Peter Andre gets emotional about his kids' first day of school: