Kylie Jenner divides opinion by giving her 5-month-old baby ear piercings
12 July 2018, 14:53 | Updated: 12 July 2018, 17:51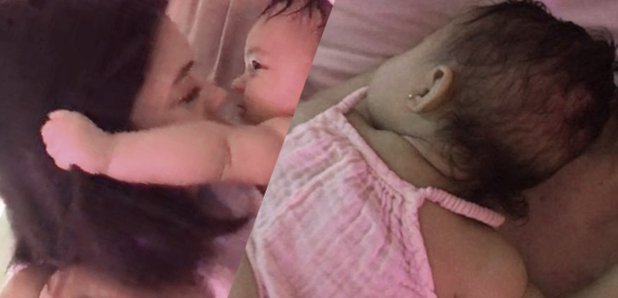 Kylie Jenner ignites a debate as she shows off her 5-month-old daughter Stormi's new piercings on Snapchat.
Kylie Jenner, 20, is the latest celebrity mother to cause controversy after revealing she has pierced her daughter Stormi's ears at just five months-old.
Posting a video on her Snapchat, Kylie Jenner's daughter, Stormi can be seen wearing gold studs when she laid on her front.
Whilst some mum's agree there's nothing with it, there have been reports that others see it as a form of "child abuse".
According to the American Academy of Pediatrics (AAP), parents should wait until their daughter is old enough to care for the ear piercing themselves.
My Pregnancy Baby site added: "The AAP doesn't recommend you pierce your baby's ears, since there is a higher risk of an infant accidentally swallowing the tiny earrings.
"If you are dead set on piercing a baby's ears, the AAP recommends that you try to wait until two weeks after your baby has her first tetanus shot (which occurs at two months)."
Watch more: