WATCH: Mickey Mouse Helps Tell Foster Children They're Getting Adopted And It Will Make You Cry
28 July 2017, 13:02 | Updated: 7 June 2018, 17:00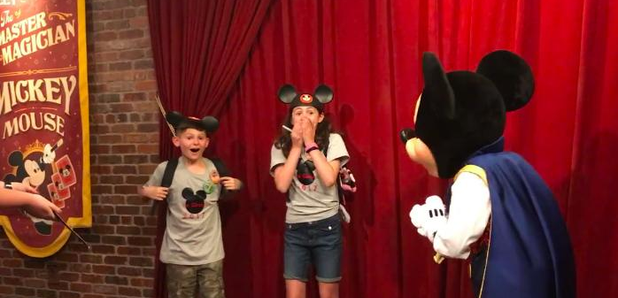 Any parent who treats their children to a day out at Disneyland is a contender for the Best Parent In The World title in our books, but these parents might just top the list.
Foster parents Tom and Courtney Gilmour had been taking care of Janielle, 12, and her 10-year-old brother Elijah for three years now, and shortly before the family's trip to Disneyland Florida, they had been given an adoption date.
But instead of telling Janielle and Elijah straight away, they hatched a cunning plan to get Mickey Mouse to break the news to the children.
"I thought, 'How cool would it be for Mickey to hold up a sign telling the kids,'" Courtney Gilmour told US TV station WTVT.
Disney agreed to arrange a special meet-and-greet with Mickey Mouse after seeing a tweet from Courtney about her plans to surprise the kids.
Courtney said: "I shared the video because I want to continue to draw attention to foster care and adoption," Courtney Gilmour told WTVT. "Being a former foster child myself and now a foster/adopt mother, it's very important we don't forget there is lots of help needed."
And the exact moment Janielle and Elijah read the sign that Mickey is holding up will break your heart.