Mum breastfeeds son, 2, on the toilet and as she cleans the house
4 July 2018, 16:56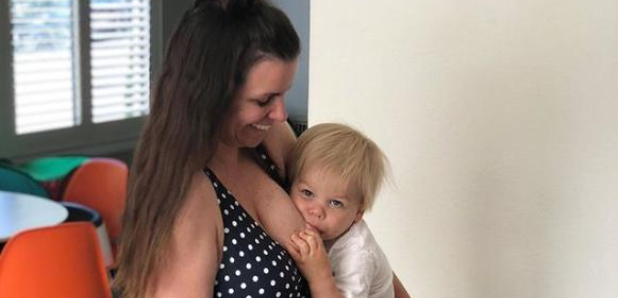 Becky Viera is so determined to breastfeed her son as much as possible that she never stops him from latching on… even when she's doing housework.
Instagrammer Becky Viera has opened up about the reality of 'extended breastfeeding' - and it sounds like hard work.
Becky started breastfeeding Archer, who is nearly 2, after he developed acid reflux as a baby.
She struggled at first, admitting that it was painful and left her nipples feeling "like they had been rubbed with sandpaper and put in a pencil sharpener", but now she is delighted to be a role model for other mums who want to breastfeed their own babies for as long as possible.
The 42-year-old, who posts regular photos on her IG page @WittyOtter, said: "In many ways it's easier because we've been doing it for so long that we've perfected things.
"I can do other things while I breastfeed, like vacuuming or go to the toilet.
"But he will grab my breasts which isn't fun. Some people say they could never breastfeed a child with teeth and he has bitten me a handful of times if he's been falling asleep.
"Of course, there are trolls who offer unsolicited opinions and tell me I'm wrong for nursing still and that I'm enabling bad behaviour on my son's part.
"There are even some men who find it sexual and send me graphic photos.
"I've had people call me a 'freak' and had men say it's 'sexy' and that my son is 'lucky'."
She said: "I breastfed my son at first because I knew it was good for him, but it was painful and awkward at first.
"I saw how healthy he was and how he was growing.
"'Like everyone tells you, it gets better with time, patience and practice.
"We take it day by day, and as long as it works for both of us we'll continue to breastfeed. But it is getting more uncomfortable as he gets older and bigger now."
Another issue Becky has encountered is other people's reaction to her extended breastfeeding, and added that some women have criticised her for keeping it up this long.
She said: "Mums are told that we must breastfeed our babies, but it's considered wrong if we breastfeed for more than a year or so.
"I try to remind myself that no one besides myself, my husband and our paediatrician know what is best for Archer."