Mum, 21, left distraught after £600 buggy was 'destroyed' by council
17 September 2018, 15:51 | Updated: 17 September 2018, 16:57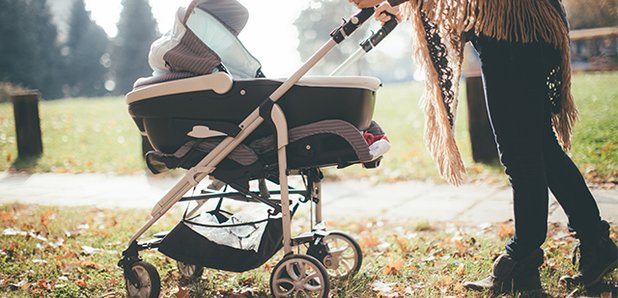 Georgia Mosley was left unable to get her two children to nursery after the council removed the buggy from the communal area in her block of flats.
A young mum of two has accused her local council of 'destroying' her £600 buggy.
Georgia Mosley, 21, is mum to two-year-old Preston and six-month-old Maisey, was left in floods of tears after Derby City Council removed and 'destroyed' her £600 pram from the communal entrance of her flat.
The Silver Cross Wayfarer buggy had been stowed out of the way in an electrical meter room on the ground floor, as Georgia had been unable to get it up to her second-floor flat.
However, when she went down one morning to retrieve it for the nursery run, she found it had gone.
Speaking to the Derby Telegraph, Georgia explained: "When I found out it was gone, I just cried. I have no other way to take my Maisey out.
"I went downstairs to look at the CCTV at the shop and saw someone from the council take it away. I was just in tears. I can't do anything without that pram."
When Georgia contacted the council about her missing buggy, they claimed it had been destroyed and she would have no chance of getting it back.
As a result, she was unable to take her children to nursery for the entire week.
The young mum also revealed that she had been trying to get the council to help find somewhere to store her pram since she moved into the block almost three years ago.
She even wrote a letter to the local Labour MP for help on the issue, but had had no response.
Georgia added: "I can't take the pram up and down the stairs with my kids. I've been trying to get some sort of storage for ages now.
"I know a lot of people will say 'just get another one' but I can't afford it and it took me such a long time to save up for it."
A spokesperson from Derby City Council said: "We have received this issue as a complaint, and are investigating in line with our complaints policy.
"In the interest of health and safety, Derby Homes operates a clear communal area policy, to reduce the risk of people being hindered when evacuating in an emergency."