Mum's emotional response to stranger who criticised her for using disabled space
3 May 2018, 13:01 | Updated: 7 June 2018, 17:00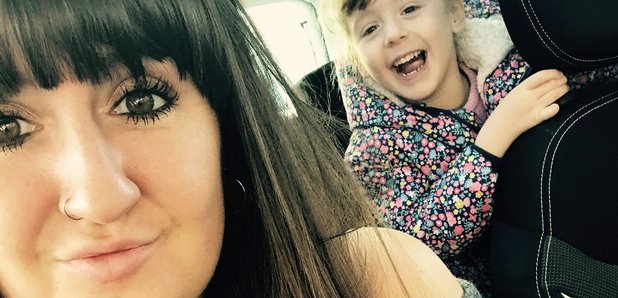 A mother of two has written a heartfelt message to those who question her need for a disabled parking space.
Hannah Blatch, 24, was on the receiving end of verbal abuse from a passing stranger who called her out for using a disabled parking space in her local town.
Speaking to The Mirror, she explained that she was loading her daughter Lily's pushchair into the car when she saw a woman staring.
She said: "She walked passed she said to her husband 'well she's clearly not disabled'.
"I looked straight at her and said 'well actually my daughter is, but thank you for your concern' and then she actually said 'well she doesn't look disabled'."
Lily, who is nearing her 5th birthday, suffers from a heart condition, severe OCD, autism and Ehlers-Danlos syndrome, and only started to talk nine months ago.
The poorly youngster has to deal with seizures, blackouts, social anxiety and swelling of her joints. Due to a gastrointestinal illness she also has to still wear nappies.
Hannah explains that she often receives judgemental looks from passers by because Lily appears to be a "typical 5-year-old" most of the time.
In response to her recent encounter, Hannah posted a heartfelt Facebook status on what it's like to be a 'special needs mum'.
In the lengthy post, Hannah wrote: "A disabled space is not a privilege, us special needs mums would park our cars miles away from the shops, walk until are legs are sore if it meant our children did not need disabled badges, if it meant our children could be better, less in pain, less confused by the world around them.
"Lying in bed, fearful of the future has become the norm to me. Every day is a worry, every day is a challenge and every day I fear what diagnoses will come next.
"Being a special needs mum is a challenge. It's a commitment to a life that you didn't choose, that you wouldn't choose for your child and however much you wouldn't change them for the world, because they're perfect, and they're clever and they're gorgeous and they're yours, you would in fact make their lives easier in a heartbeat."
Her open letter struck a chord with many other 'special needs mums', who face similar struggles.
One parent put: "My daughter has Ehlers Danlos Syndrome and POTS. She looks 'normal' and has a disability badge. Every time she uses it I wait for someone to make a comment. You sound like an amazing, wonderful mum. Keep going and hold your head up high."
Another penned: "An awesome piece, so reflective of our children's needs. You have your angel she has her mum. You are an incredible mother. Let us not judge but love."
One user even offered her time to talk, writing: "I may have only just met you through your words here, but My door is always open for a cuppa and it welcomes you and your children. Keep smiling."
Hannah hopes that her message will continue to raise awareness of 'hidden' disabilities, explaining: "Hopefully it will help show people what is behind the scenes."
WATCH! The 50 mums who Wouldn't Change A Thing visit This Morning: