Mum posts hilarious snap after son, 2, accidentally discovers her fake tan
15 June 2018, 07:23 | Updated: 15 June 2018, 07:26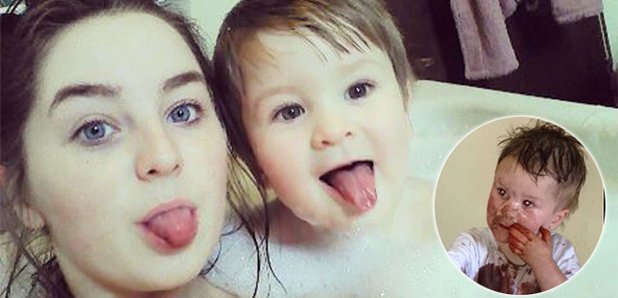 A young mum has learned the hard way to never leave her fake tan unattended.
Billie Fotheringham, 19, from Fife, Scotland, got the shock of her life after her two-year-old son Kyle and his pal, three-year-old Leo, got their tiny mits on a bottle of her St. Moriz Dark Mousse instant self-tan.
The young tots turned suspiciously silent after happily playing together, and when Billie went to check on them she discovered they'd pumped the entire bottle of tan everywhere.
Kyle and Leo looked so adorably innocent smeared head to toe in instant tan, that Billie was too amused to tell them off - despite the twosome successfully coating most of her room in the liquid too.
Billie explained to The Metro: "The fake tan was in the unit in the hall. They had opened it and pumped it out.
"It was almost a brand new bottle, I had only used it once. Leo was butt naked doing it.
"I went in and at first all I could see was Leo in a towel and Kyle in front with his t-shirt still on but then Leo stood up and he had nothing on.
"They must have been putting it on each other. At first I thought they had hurt themselves. They were just in there, bright orange. When I realised what they done I just burst out laughing and so did they."
Leo's mum Shirley, who was staying with Billie for the weekend, also saw the funny side and told The Sun: "They were hiding in Kyle's room and we thought they were too quiet so Billie went through to check on them and tada there they were.
"Billie walked in and screamed because she didn't know what it was to start with until she found the empty tan bottle was all over the floor, over the covers and of course all over them.
"I couldn't even give him a row because it was just too funny. My sister and mum on the phone to my son after it happened. It just looks like a natural tan now."
WATCH! Mum defends decision to have a favourite child: